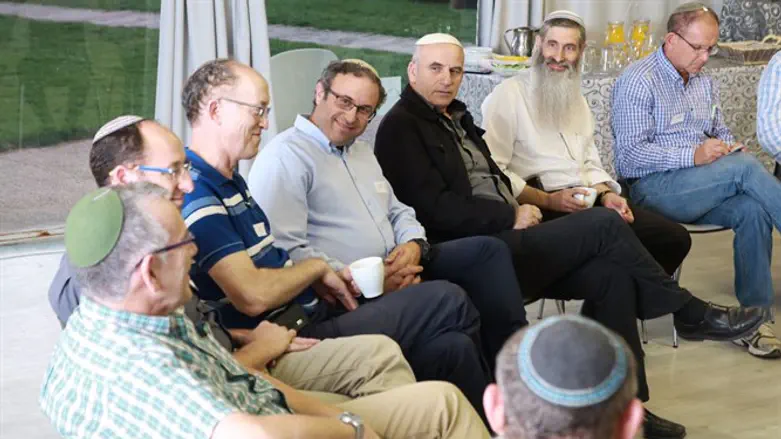 Special meeting of bereaved fathers
Meir Pavlovski
Last Friday in Neve Ilan a special meeting for 35 bereaved fathers organized by the OneFamily association took place.
Among participants were religious and secular fathers who lost their children in Israel's wars and terror attacks, including the recent wave of terror and Operation Protective Edge.The meeting, entitled "Strengthen and be Strengthened," included dialogue groups and activities such as jeep tours, theater workshops, and outdoor training.
This is the first encounter of its kind, as most events are for both parents, families or women only.Following feedback from participants, organizers have already announced a support group for the bereaved fathers which will continue to operate as a separate project alongside existing groups (mothers, siblings, adults, orphans, and others).
The parents of the three boys who were kidnapped and murdered in Gush Etzion in 2014, Ophir Sha'er, Uri Yifrach, and Avi Frenkel met with Rabbi Dov Singer, head of the Mekor Chaim Yeshiva, where Gil-Ad Sha'er and Naftali Frenkel learned. Other participants included the fathers of Benaya Sarel and Liel Gidoni, who were murdered in Rafah together with Hadar Goldin whose body is held by Hamas in Gaza, and the father of Ohr Arish, the security guard from Har Adar who was murdered in an attack a month-and-a-half ago.Ohr shot the terrorist and managed to save the village security coordinator's life.
Eliezer Rosenfeld, father of Malachi who was murdered in a shooting attack driving home from a basketball game, said after the meeting: "It was perfect to come here to hear words of reinforcement about coping with the lack of faith in the world, and then to break up and laugh.We left the serious and painful routine to the smiles, the jokes, and the shared experience, and I was happy to see other people whom I had only heard about in the press before, and have now met face to face."
Rabbi Ohad Taharlev, the father of the Elhai, a Golani soldier murdered in a terrorist ramming attack at the Ofra junction in April, said: "We said 'to life- -l'chaim' together with our pain. It was wonderful, it opened the heart, brought joy, it was a togetherness encounter for the fathers.We're all here because of our children's connection and we share a common denominator."
"Loss is a terrible thing and everyone deals with it differently," said Chantal Belzberg, CEO of One Family. "The feeling of being together, that there are other people who are going through the same difficult experience, is mitigating and strengthening.Therefore, we try our best to adapt people to groups where they will feel more comfortable opening up and identifying with the other members of the group.The meeting of the bereaved fathers showed us this again and in a very stark way, and we intend to continue to develop the special relationship that has been created between the fathers."
לראשונה: מפגש מיוחד של אבות שכולים
מאיר פבלובסקי