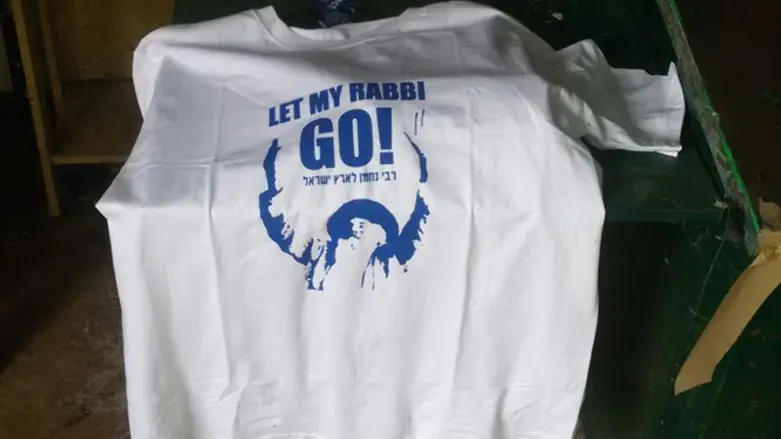 'Let my rabbi go' shirt
Vaad Tzion Rabbeinu in Eretz Israel
The Breslov hassidim who support the Israeli initiative to relocate the grave of Rabbi Nachman of Breslov to Israel are renewing an advertising campaign calling to bring the Breslov leader's remains to Israel.
As part of the campaign, the hassidim have produced a shirt with the message: "Let my rabbi go" above the portrait of Rabbi Yisrael Odesser.
The shirt was commissioned by the Va'ad Tzion Rabbeinu in Eretz Israel, and according to the Va'ad (committee), the choice of design is not coincidental, but is designed to reflect the call Moses made to Pharaoh, and the slogan of the campaign to free Soviet Jewry, "Let my people go."
"We, too, ask the Ukraine - free Rabbi Nachman to the Land of Israel," the Vaa'd said in its announcement the beginning of the distribution of the shirts.
The Va'ad also sent a letter to the Prime Minister of Ukraine, stating: "This is the largest historical move that you have the right to carry out for the Jewish people, who suffered so much on Ukrainian soil 70 years ago at the hands of Adolf Hitler. And in 1948 we were granted recognition by the United Nations, to receive the Land of Israel."
"Rabbi Nachman said, 'My place is only in the Land of Israel.' Rabbi Nachman is buried in the land of Uman where 30.000 Jews were murdered for Kiddush Hashem, and there Rabbi Nachman chose to be buried. Now is the time to transfer him to the tomb of King David, his forefather. The Star of David is the flag and symbol of the Jewish people. [The body of Rabbi Nachman] belongs to the Jewish people and is a national asset that must be restored to its natural place."
Earlier this month, it was revealed that Israeli diplomats had begun discussing the possible relocation of Rebbe Nachman's remains to Israel.