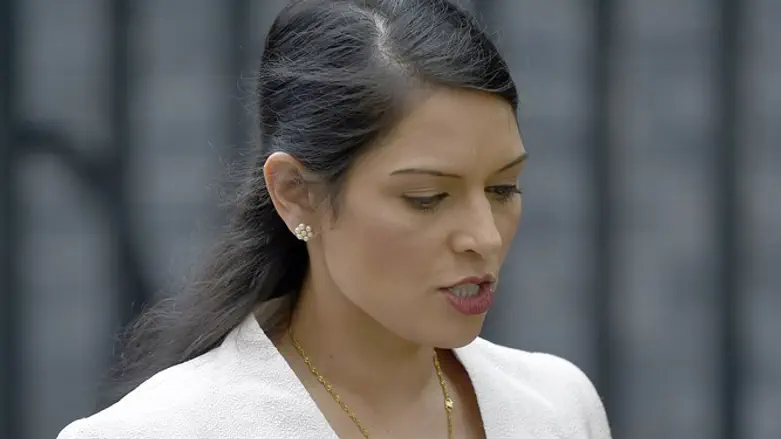 Priti Patel
REUTERS
In addition to her unauthorized meetings with Israeli government officials over which she resigned yesterday, former British Secretary of State for International Development Priti Patel also visited the Golan Heights during her trip to Israel in August, Haaretz reported.
Patel, a member of the Conservative party's "Thatcherite" wing, yesterday announced her resignation and offered an apology to British PM Theresa May over her undisclosed meetings with senior Israeli leaders while vacationing in the Jewish state this August.
"I offer a fulsome apology to you and to the government for what has happened and offer my resignation," she wrote in a letter to British Prime Minister Theresa May.
Patel also wrote in her letter that there had been a "number of reports about my actions and I am sorry that these have served as a distraction."
On Tuesday, Downing Street officials confirmed that Patel had discussed during her meetings in Israel the possibility of granting British aid to IDF-run field hospitals in the Golan Heights providing humanitarian aid to Syrian refugees.
"The Secretary of State did discuss potential ways to provide medical support for Syrian refugees who are wounded and who cross into the Golan for aid," a government spokesperson said, going on to confirm that British policy has not changed.
"The Israeli army runs field hospitals there to care for Syrians wounded in the civil war. But there is no change in policy in the area. The UK does not provide any financial support to the Israeli army."
According to a report in Haaretz, Patel also visited a Golan field hospital.
While Israel captured the Golan Heights from Syria in a defensive maneuver during the 1967 Six-Day War following Syrian artillery's bombardment of the Galilee, and applied Israeli civilian law there in 1981, the international community refuses to recognize Israel's control over the region.
In line with this stance, British ministers and senior officials do not travel to the Golan under the auspices of the Israeli government, meaning that Patel's visit there as a guest of the Israeli government was a breach of standard British protocol.