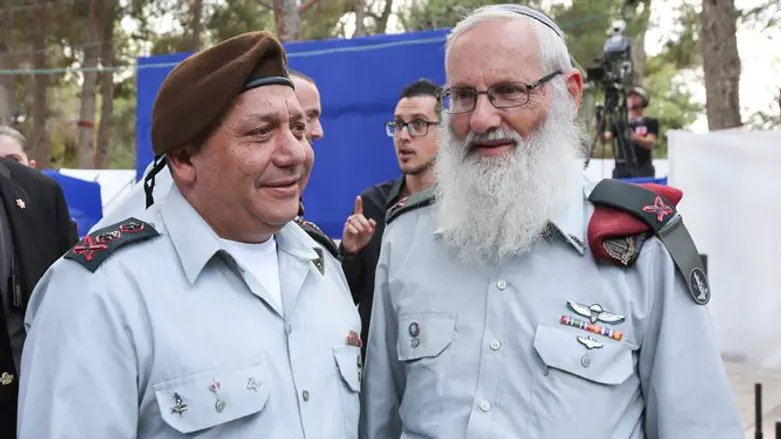 Rabbi Krim (R) and Gen Eizenkot
Photo by Marc Israel Sellem/POOL
Rabbis representing the religious Zionist sector met today (Tuesday) with Chief of Staff Lt. Gen. Eizenkot in order to present him with the details of the problems involved in the Joint Service Ordinance dealing with mixed gender IDF service. They explained how the Ordnance causes intrinsic halakhic problems in mixed gender situations for observant IDF soldiers.
The rabbis, who came to the Chief of Staff's office at the Kirya military complex in Tel Aviv, asked Eizenkot that the order not bring about joint service of male and female soldiers, this against the backdrop of the Chief of Staff's move to increase integration of women in combat roles.
The rabbis explained to Eizenkot that enforcement is required in areas where the order is already in effect, so that soldiers' quarters are kept separate, soldiers are able to carry out military tasks while sexes are separated. They asked to enforce the rest of the provisions of the amended order at the request of the Chief Rabbi of the IDF, Brigadier General Eyal Krim, in order to enable observant soldiers a tour of service that respects their beliefs..
The Chief of Staff heard from the rabbis that today the "spirit of the order" is not felt at army bases, and despite changes made in the order, many soldiers continue to encounter halakhic problems. Halakha is stringent when it comes to situations involving single adults, mandating unchanging rules in order to preserve the monogamous sanctify of relations between a husband and wife. A man and woman are not allowed to be together in a closed space unless they are married and any physical contact between the sexes is forbidden until marriage. There are also laws with regard to modest clothing. All of these are problematic in mixed gender units.
Sources familiar with the details of the meeting told Arutz Sheva that the meeting went on beyond the predetermined time and ended in good spirits.
Gen. Eizenkot made it clear to the rabbis who sat before him that the Joint Service Ordinance was not a closed matter, he was happy to hear their comments, and the order could be changed in the future in order to allow as many male and female soldiers as possible to serve in the IDF. No similar statement was made at a meeting with representatives of the women's organizations.
The rabbis who participated in the meeting were Deputy Defense Minister Rabbi Eli Ben Dahan, Chief Rabbi of the IDF Brigadier General Eyal Krim, Rabbi Chaim Druckman, Rabbi Eli Sadan, Rabbi Yaakov Medan, Rabbi Amichai Gordin, Rabbi Meir Nehorai,Rabbi Ohad Taharlev, Rabbi Chananel Etrog, Rabbi Shmuel Haber, and Rabbi Chaim Baruch.