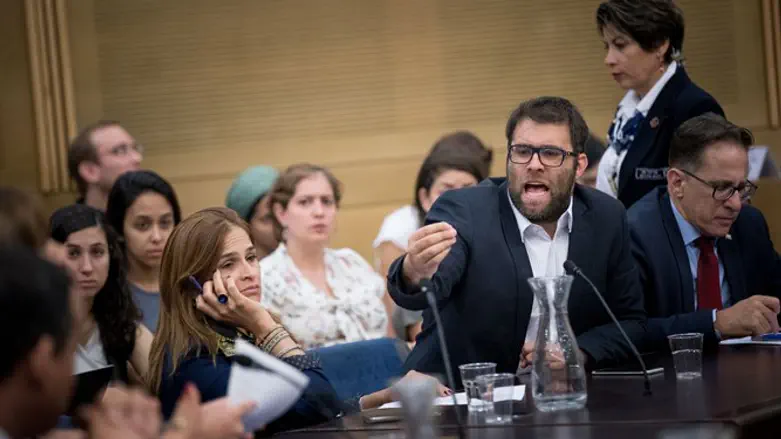 Knesset Committee Hazanut
Flash 90
Members of Knesset Oren Hazan (Likud) and Michal Biran ('Zionist Union') engaged in a heated debate today during a discussion in the Knesset Finance Committee.
After Hazan called out to Knesset Member Rachel Azaria (Kulanu), "I could teach you a few things," Biran shouted at him. "She'll do fine without the skills of running a casino in Burgas."Hazan replied, "I won't tell you what I'd have you doing..."
Biran continued to insult Hazan: "All day you disrespect women, you pimp; it's an embarrassment that you're in the Knesset."Hazan replied, "Want to apply for a job? Though I'm sure no-one will look at you. Maybe you should use the money from connecting with voters to fund a post so people will get to know you."
Rachel Azariya shot back, "You're a rude chauvinist!", to which Hazan replied, "Oh, now I'm a chauvinist?" Azaria sarcastically said "Nooooo," while motioning to accentuate her sarcasm.
After the debate, MK Azaria said that "Knesset Member Oren Hazan systematically harms public trust in Knesset members. "His remarks to me and to MK Michal Biran were hurtful and I don't intend to let it pass without a response.MK Hazan just has to enter the committee room, and the discussion turns into a crude, rude, and ribald discourse.
"The usual tools against Knesset members are not effective. It's necessary to use a heavy hand in such cases.Every day that MK Hazan serves in his position, the Knesset's status is diminished."