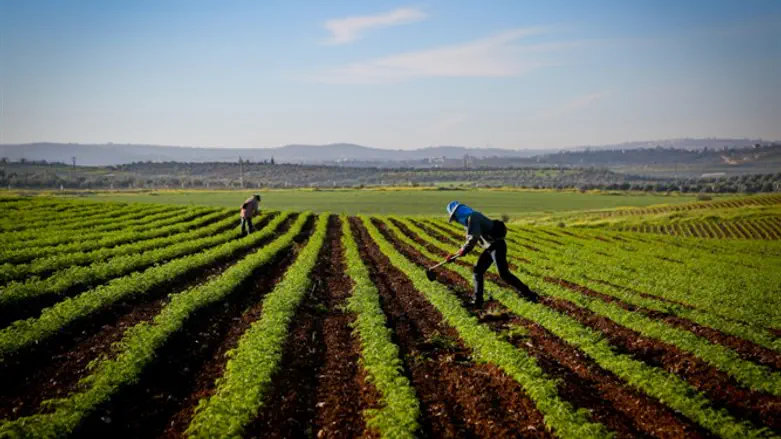 Farmers (file)
Yaakov Lederman/Flash90
At the initiative of Minister of Agriculture Uri Ariel (Jewish Home) and Deputy Minister of Finance Yitzhak Cohen, a fund will be established for farmers who observe the Jewish laws of the Shemitah (Sabbatical) year, whereby every seventh year Jewish farmers are prohibited from cultivating the Land of Israel.

The fund, which will be opened in cooperation with the Ministry of Agriculture and the Ministry of Finance, received the backing of Rabbi Chaim Kanievsky and the President of the Shas party's Council of Torah Sages, Rabbi Shalom Cohen.
According to the plan, the state and the Shemitah-observing farmers will set aside a sum of money each year to a designated fund that will be opened, thus providing economic security for farmers who observe Shemitah laws. The farmers will draw a monthly stipend during the Shemitah year funded by the deposits made during previous years.
In previous Shemitah years, there was no budget known in advance for Shemitah-observing farmers, and farmers who wished to keep Shemitah laws were forced to live in the seventh year modestly, anxious until the level of state participation was determined.

The new arrangement is intended to enable religious farmers to observe the next Shemitah year (September 2021 to September 2022) with a guaranteed source of income.
Minister Ariel said that "the State of Israel cares about its farmers and for the first time there is recognition of the right of the observant farmer to desist from work in the Sabbatical year without fear. Cultivating the land is a mitzvah, and I am happy that the farmers who observe the mitzvah of Shemittah will be able, through the special fund that was established thanks to the cooperation with Deputy Minister Rabbi Yitzhak Cohen, to plan their income and ensure their livelihood for the upcoming Shemitah year."

"This plan received the blessing of the great sages of Israel. The support for the fund is an effort that crosses sectors and unites the great rabbis of the generation, Rabbi Chaim Kanievsky, Rabbi Shalom Cohen, Rabbi Dov Lior, Rabbi Ariel, Rabbi Yitzhak Zilbershtein, Rabbi David Landau and other rabbis, in this important development for farmers," he added.