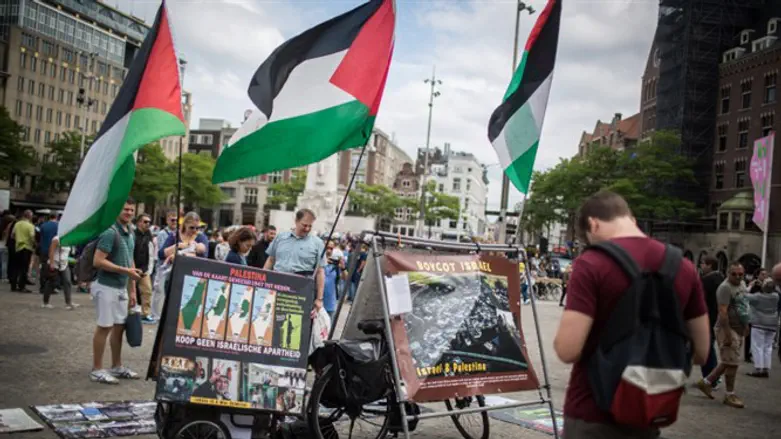 Pro-BDS display
Flash 90
The Ministerial Committee for Legislation is expected to deliberate on Sunday upon the so-called "Boycott Bill" advanced by Public Security Minister Gilad Erdan and MK Yoav Kish (Likud).
The bill seeks to render a body or person working to encourage the boycott of Israel eligible to be sued for 100 thousand shekels without proof of damages - or 500 thousand shekels with proof of damages.
Officials in the Justice Ministry fear that the bill will not meet the approval of the Supreme Court. Therefore, Chair of the Ministerial Committee, Justice Minister Ayelet Shaked must decide whether to hold a vote on the bill - or remove it from the agenda.
The bill effectively seeks to "give teeth" to the struggle against BDS activists calling to boycott the State of Israel and cause harm to it and its citizens.
According to the bill: "The increasing activity around the world and within Israel of the BDS movement, whose goal is to boycott, divest and sanction the State of Israel and its citizens, constitutes great harm, and it is the moral duty of the legislator to restrain and deter those seeking to aid it."
The bill enjoys widespread support from government ministers, especially Public Security Minister Gilad Erdan, whose office is responsible for this matter.
MK Kish said, "I am sure that Minister Shaked will ignore the voices [against the bill] and support the passage of the bill in the Ministerial Committee this Sunday."
הצעת חוק: מי שמעודד חרם חשוף לתביעה