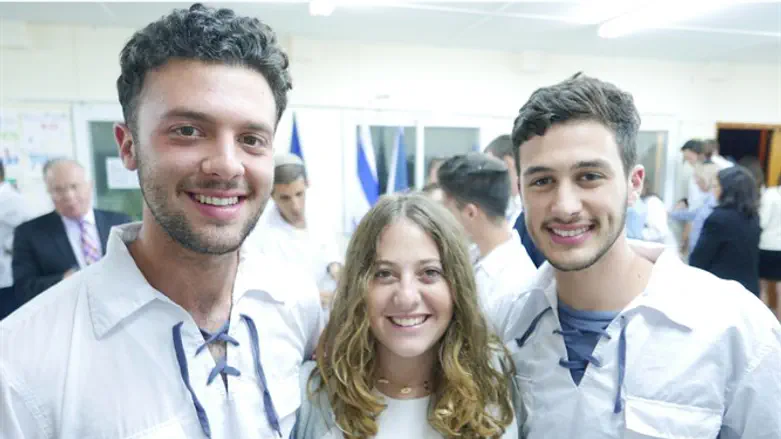 Mechina participants
World Bnei Akiva
The first international pre-army mechina was inaugurated yesterday (Sunday) in a ceremony held at Kibbutz Migdal Oz. The mechina will prepare high school graduates for their military service and integrates students from Israel with foreign residents, both men and women.
The inauguration ceremony was attended by Education and Diaspora Minister Naftali Bennett; Jewish Agency director Alan Hoffman; Rabbi Yehiel Wasserman, head of the Center for Spiritual Services in the Diaspora in the World Zionist Organization; head of the Gush Etziyon Regional Council Shlomo Ne'eman; Sarena Koschitzky, chairwoman of the World Bnei Akiva movement, and Roi Abecassis, the movement's Director.
The first group of students in the course includes 50 students, with just over half coming mainly from Australia and South Africa (28) and the rest (22) native Israelis. The official name of the program is the "The International Mechina" and is the result of cooperation between the World Bnei Akiva movement and the project of "Kol Ami" run by the Jewish Agency. The Mechina director is Rabbi Arik Speaker.
At the end of their studies, some of the students plan to make aliya and join the IDF, while others will join the army's programs for foreign citizens. Other students plan to return after this stage to their communities and join the World Bnei Akiva movement's activities there, something that the organizers of the program see as an alternative service for the Jewish people in the Diaspora.
Education Minister Naftali Bennett said that if the course existed when he was finishing his high school studies, he would surely have joined it. Bennett said also that "partnership between Israel and diaspora [Jewry] is a strategic partnership and we must deepen it and strengthen it. All of the people of Israel are responsible for one another." Bennett added: "There are many things we can learn from diaspora Jewry. Like strengthening the internal dialog among various streams. Israel is a strong country and we must act to strengthen Jewish communities [around the world] so that they are preserved and remain connected to Israel."
Head of the Gush Etziyon Regional Council Shlomo Ne'eman also spoke during the ceremony. He said: "I congratulate the Bnei Akiva movement on its blessed initiative to establish a Mechina course here in Gush Etziyon. It is a mission and a tremendous responsibility for Gush Etziyon – a place of vocation and national responsibility for which these values are the basic building blocks. I wish you success on your path and your intention to prepare the future generation of the IDF and of the State of Israel."
Director of World Bnei Akiva (WBA) movement Roi Abecassis said: "This Mechina program is a symbol and an example of our ability to bring together the different streams of the nation spread all over the world and to bring them together to one place, while preserving the uniqueness of each community and creating a new colorful quilt of people, where the common denominator is the study of Torah, love of the land and a connection to the people and Jewish nation. I am proud of each and every one of the Mechina students who chose to come and grow in this coming year, from the point of view of studying Torah and from the point of view of deepening the Jewish identity, and I am certain that from this place some great men and women will grow."
Minister Bennett at ceremony
World Bnei Akiva
PArticipants
World Bnei Akiva
Minister Bennett participates in ceremony
World Bnei Akiva
Minister Bennett speaks at ceremony
World Bnei Akiva