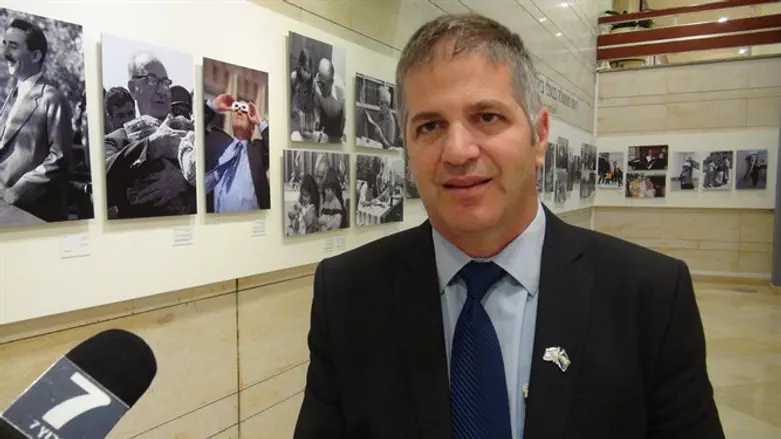 Yoav Kish
Hezki Baruch
The Knesset House Committee convened Monday to discuss establishing a parliamentary commission of inquiry to examine foreign funding of Israeli NGOs operating against IDF soldiers.
The hearing was held on the background of the Knesset Legal Advisor Attorney Eyal Yinon's opinion according to which the Knesset is not authorized to establish such a committee, although the Knesset Basic Law does not limit issues to which the Knesset is entitled to establish a parliamentary committee of inquiry.
MK Yoav Kish (Likud), chairman of the Knesset House Committee, slammed the position of the Knesset's Legal Advisor: "Government by legal advisor is a terrible illness and we must not allow it to breach the Knesset."
"It's no secret that the executive branch is so shackled and submissive to the judicial revolution that ministers sometimes have to use Knesset members to pass laws that their legal advisers oppose.
"The Knesset's legal advisor is not an elected party, he is not a political actor, and he is not a player in the Knesset's decision-making arena. Only the representatives of the people, their elected officials, those who received their authority from the public and bear full responsibility for every decision are the ones to determine," stated Kish.
MK Kish sought opposition member's support in this position. "When it comes to this issue, there should be no opposition or coalition.If the legal advisor's declarations are met with a silent or weak legislative body, the entire Knesset, both opposition and coalition, will lose its power, will become irrelevant, and will succumb to the judicial revolution [of former Chef Justice Aharon Barak] that destroyed everything good, but did not reach the Knesset.
"Even a legal advisor can't determine that now it's night when there's sunshine, we will not remain silent in the face of an attempt to thwart or limit the clear and unequivocal authority of the Knesset that emanates from basic law."
Matan Peleg, chairman of the Im Tirtzu movement, said following the discussion that "renouncing existence of a parliamentary committee of inquiry is disappointing.European countries have disbursed over a quarter of a billion shekels to political propaganda organizations operating in Israel over the past five years aimed at undermining the very existence of the State of Israel. The very fact of relinquishing the commission misses the government's opportunity to summon European administration officials to explain to the citizens of Israel why these governments are acting subversively and anti-democratically against Israel."
Peleg stressed that "legislation on the subject is important and progress must be made more vigorously. End the theater of the absurd in which foreign governments seek to affect the sovereignty of the State of Israel."