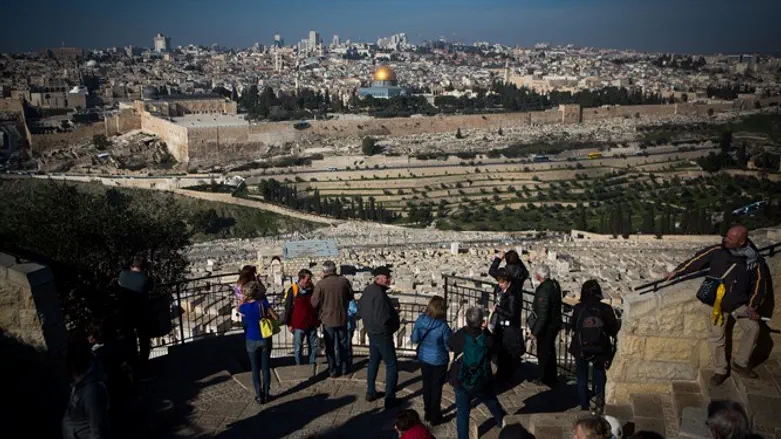 View from the Mount of Olives
Miriam Alster/FLASH90
The Jerusalem Council of Cemeteries, in cooperation with the Social Equality Minister, headed by Minister Gila Gamliel, and the Haredi Education Division of the Jerusalem Municipality, launched a joint initiative to bring all students of Jerusalem's educational institutions to the Mount of Olives.
"The goal of the educational initiative," said the director of the Council of Cemeteries, Rabbi Hillel Horowitz, "is to learn about the chain of generations and the history of the great Jewish people, and to recognize and feel the inseparable connection, from the source of the Shekhina (Divine Presense) in the Holy of Holies to our rabbis who commentated on the Torah."
The Council of Ceremonies emphasized that thanks to the planning and preparation by all bodies involved in the initiative, the Mount of Olives is secure and safe to visit.
Rabbi Horowitz concluded: "I have the privilege of being in a position in which I have the responsibility over this great and sublime location, the Mount of Olives, which generations of the righteous passed through for thousands of years. I was privileged to hear about the importance and necessity of advancing the matter from all the great yeshiva heads and rabbis with whom I held frequent consultations. In the framework of the great renewal of the Temple Mount, the [Mount of Olives] is safe and secured for all visitors to the [graves of the] righteous buried there, we are also privileged to expose the historical journey of the Temple Mount throughout the generations."
Rabbi Yitzhak Hanau, the director of the Jerusalem Municipality's Religious Buildings Division and member of the Jerusalem Council of Cemeteries, added that "The connection to the roots of the generations and the exposure of Jewish history is accompanied and is part of the challenges of the Jerusalem Municipality. Part of the history and centrality of Jerusalem is the Mount of Olives, whose greatness and importance have been seen by our forefathers for generations who chose to be buried in front of the Holy of Holies."