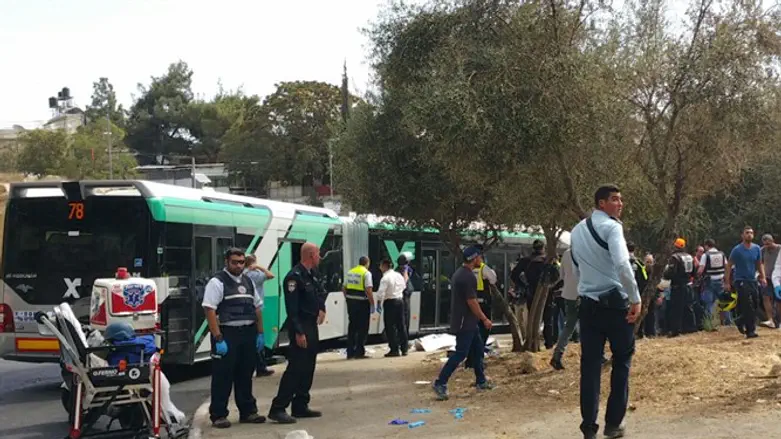 Scene of bombing attack
Hezki Ezra
The father of a terrorist responsible for a deadly attack on a Jerusalem bus two years ago was honored this week by a French-based international 'human rights' organization for his legal representation of the wife of a terrorist responsible for a synagogue massacre three years ago, Yisrael Hayom reported.
The recipient of the award, attorney Muhammed Allyan, is the father of Bahaa Allyan, one of two terrorists responsible for the October 2015 bus attack which left Haviv Haim, Alon Govberg, and Richard Lakin dead.
On October 13th, 2015, armed with knives and a firearm, Bahaa Allyan and Bilal Abu Ghanem attacked passengers on the number 78 bus in the Armon Hanatziv neighborhood of Jerusalem.
On Sunday, Muhammad Allyan was honored at an event in Al Quds University's Abu Dis campus sponsored by the Geneva-based International Institute for Human Rights and Peace and the Caen Memorial for Peace.
Allyan won the International Pleading Competition of Palestine prize, an annual award given as part of the International Human Rights Competition for Lawyers. The prize was given for Allyan's defense of Nadia Abu Jamal, the wife of Ghassan Abu Jamal, one of two terrorists responsible for the 2014 Har Nof synagogue massacre. During the attack, Abu Jamal and his cousin shot, stabbed, and beheaded four Israeli-American rabbis and gunned down a Druze police officer before being shot and killed.
Nadia Abu Jamal, who police say expressed support for the massacre and had prior knowledge of her husband's plans, was stripped of the Jerusalem residency permit she had been granted and lost coverage from Israel's healthcare insurance. In response, Abu Jamal sued the state, taking Muhammad Allyan as her legal counsel.
Sunday's event was attended by government representatives of numerous countries including Canada and Belgium, and a number of French lawmakers and self-described human rights activists.
During the event, Allyan slammed Israeli police officers for neutralizing Ghassan Abu Jamal during the massacre, accusing them of using the attack as a "pretext" for an extrajudicial killing.
"Ghassan was shot to death by Israeli police, who used the pretext of the killing of Israelis in Jerusalem," said Allyan. "The police weren't satisfied with the extrajudicial killing of Ghassan. A few hours later they surrounded his house with a large force and conducted searches of his wife and children. The family was in shock and didn't realize that from that moment on, their lives were to become a living hell."