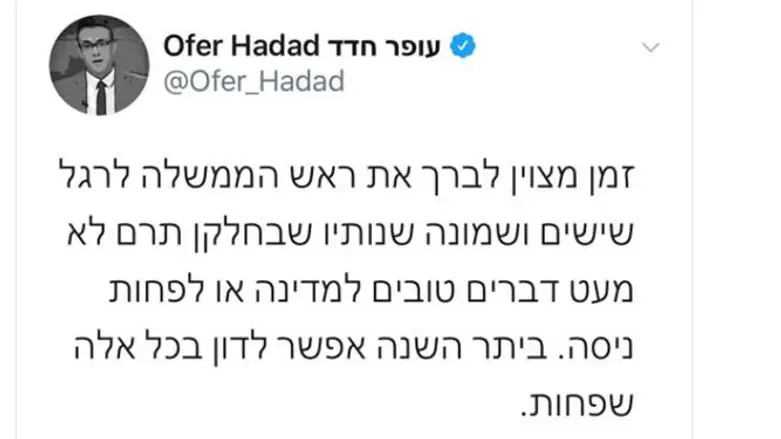 The erased Tweet
Screenshot
Channel 2 news anchor Ofer Hadad last night wished Prime Minister Binyamin Netanyahu a happy birthday in a Tweet uploaded last night.
Hadad added that, in "some" of his 68 years, Netanyahu "contributed no small amount of good things to the state, or at least tried."
"In the rest of the year, we can talk about all [his deeds] that [contributed] less," he added.
Not exactly the type of admiration-exuding message that Kim Jong-un is used to receiving, but nevertheless, it appears there was an attempt to say something positive about the Prime Minister on the occasion of his birthday.
Even this, however, seemed to be too much for Hadad's circles. Whether pressure was exerted on him or he pressured himself, Hadad removed the Tweet shortly after it was uploaded. His Twitter friends who sought an explanation for his behavior were left unanswered.
"It was an excellent Tweet," journalist Yossi Assouline - who managed to take a screenshot of the Tweet - himself tweeted. "Now the question is, who gave Ofer Hadad the instruction to erase it?"