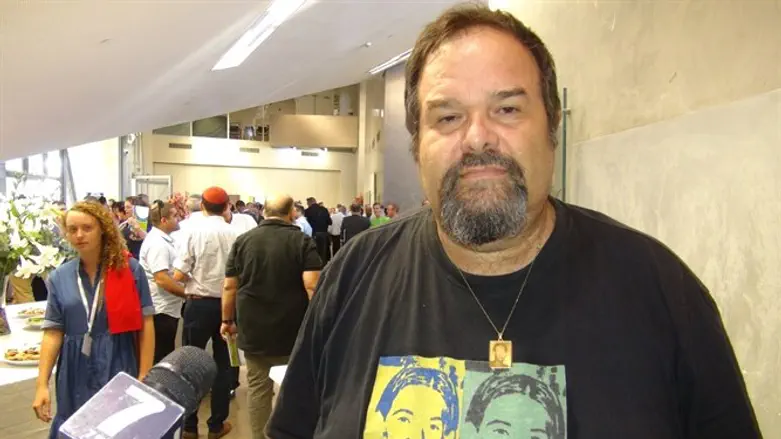 Yossi Zur
Hezki Baruch
The Almagor terror victims' organization on Saturday night expressed its disappointment over the appointment of Yaron Blum as the new coordinator for issues concerning missing and captive Israelis.
Blum was appointed to replace Lior Lotan, who stepped down in August after three years in which he voluntarily held the position.
"This is good news for Hamas. In the Shalit deal, Blum brought a huge achievement to Hamas with more than a thousand terrorists and murderers who were released, many of whom resumed terror activities and some of whom serve as Hamas commanders," the organization wrote.
Yossi Zur, father of Assaf Zur who was murdered in a bus bombing in Haifa in 2003 and whose murderers were released in the Shalit deal, said, "We did everything we could to convince that murderers should not be released from prison. My son's murderers sat in prison for eight and a half years for the murder of 17 Israelis, meaning six months for every person they murdered. In the military court where they were tried, they said openly, 'We will not sit in jail for the full term and as soon as we get out we will go back to murdering Israelis', and they are shamefully free. Then they promised that deals of the kind that was implemented six years ago would not happen again. So they promised. In 2013, they released another 76 murderers as a gesture to Secretary [John] Kerry."
Hamas is holding the bodies of IDF soldiers of Hadar Goldin and Oron Shaul, who were killed during the counterterrorism Operation Protective Edge in 2014.
In addition to the soldiers, two Israeli civilians who went missing in Gaza - Avera Mengistu and Hisham al-Sayed - are believed to be held by Hamas as well.
Peter Maurer, the head of the International Committee of the Red Cross (ICRC), recently met Hamas leader Yahya Sinwar and asked that he be allowed to visit "the Israeli soldiers missing in Gaza." Hamas did not agree to the request and has refused to provide information on the fate of the Israelis.