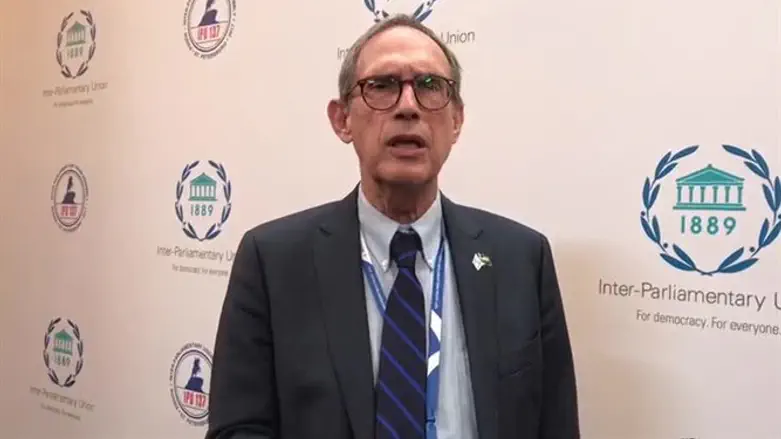 MK Nahman Shai
Knesset spokesperson
The Knesset delegation to the annual conference of the Inter-Parliamentary Union (IPU) walked out in protest from this afternoon's plenum meeting after it approved a series of anti-Israel proposals.

Among the proposals approved were calls for the release of convicted murderers Marwan Barghouti and Ahmed Sa'adat, and rebuke of Israel for holding in administrative detention members of the "Palestinian National Council" on behalf of Hamas.

Members of the delegation to the conference, MKs Nachman Shai (Zionist Union), Sharren Haskel (Likud), Yossi Yona (Zionist Union), Haim Yellin (Yesh Atid) and Knesset registrar Yardena Meller-Horowitz left the hall.
The head of the delegation, Shai, said at the conference, "I thought that the organization, like the rest of the world, is united in the fight against terrorism, because terrorism endangers every country, anywhere, at any moment in the world. Do you want to release convicted murderers from prison? I thought that you wanted to fight terrorism and not to help it, but the reality is different. "

He added that Israel is committed to promoting peace with all its neighbors, including the Palestinians, but that this will not come at the expense of an uncompromising struggle against terror.
After a number of delegations, including Syria, Pakistan, Jordan, Kuwait, and the Palestinian Authority, spoke against Israel, Haskel replied: "I think this is a bad joke. Countries like Syria and Iran are hypocritical, they teach Israel what morality is and what human rights are. This organization is supposed to support and strengthen democracy, but here in the Palestinian Authority there have been no elections for over 10 years and anyone under the age of 29 has never voted. What kind of elected representatives are these? "

After the meeting, the Israeli delegation sent a note of protest to outgoing President Saber Chowdhury of Bangladesh, saying that he had today seriously damaged the neutral status of the organization by permitting Arab states to constantly lambast and interrupt Israeli spokesmen, and that he himself had not allotted the Knesset delegation time equal to that of the other delegations.
ח"כ שי: מצאנו מוסר כפול
דוברות הכנסת