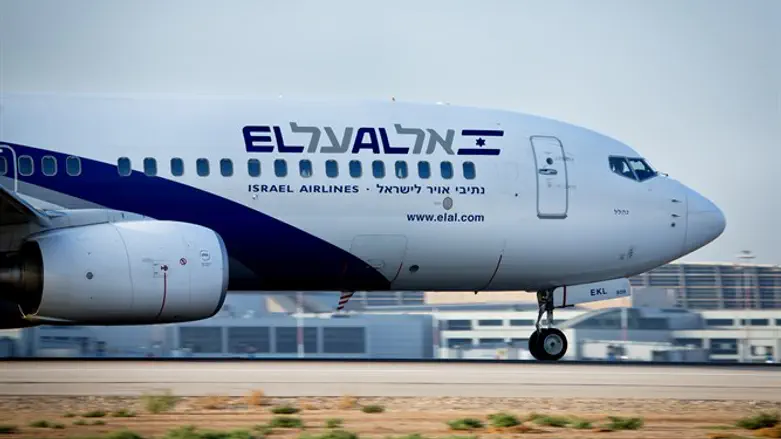 El Al airplane
Photo: Moshe Shai / Flash90
One of El Al's two new "Dreamliner" planes had its flight cancelled last night shortly before departing from London to Tel Aviv, after a crack was discovered in one of the plane's windows, according to Yediot Ahronot.
Passengers were removed from the plane and put up at local hotels. They are to depart in the afternoon for Israel.
According to the report, the plane remains grounded because replacement parts have not yet been successfully located in the London area, but El Al noted that it "has begun repairing the defect, and the plane will be ready for takeoff after repairs have been completed."
According to one passenger on the delayed flight who was quoted by Yediot Ahronot, "At first, they said there was a slight delay, and after passengers started asking questions, they told us there was a minor problem. Eventually, we understood that there was a problem with a window in business class. They told one of the passengers that they were trying to obtain a certain part unique to the Dreamliner, because the window was cracked."
El Al is expected to gradually replace its aging fleet of Boeing 747 and 767 planes with the newer Boeing 787 Dreamliners, which were designed to be more fuel efficient, over the next several years. El Al received its first Dreamliner from Boeing in August.