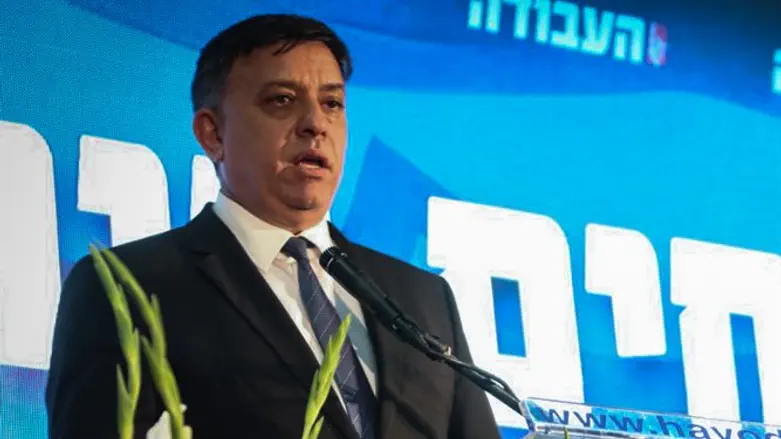 Avi Gabbay
Flash 90
Knesset members from the Zionist Union party distanced themselves on Monday evening from statements made by party chairman Avi Gabbay, who said earlier that he has no intention of evicting Jewish communities in Judea and Samaria.
"I will not evacuate settlements as part of an agreement with the Palestinians," Gabbay told Channel 2 News. He added that he believed that signing a peace agreement with the Palestinian Authority (PA) did not automatically mean signing an agreement to evacuate Jewish residents.
MK Tzipi Livni, who in the past was in charge of negotiations with the PA, responded to Gabbay's remarks and said, "I am making it clear that Gabbay's statement that he will not evacuate settlements as part of a peace agreement is the position of the Labor chairman alone."
"This is not my position, not the position of Hatnua, and not the position of the Zionist Union," she added.
MK Ksenia Svetlova also distanced herself Gabbay's remarks and said, "Only a political settlement and separation from the Palestinians will ensure the existence of the State of Israel as a Jewish and democratic state. We have to carefully preserve what we can preserve and if not, we will lose everything."
Similar comments came from MK Nachman Shai, who tweeted, "We will have to separate from the Palestinians, we will have to evacuate settlements with pain and sorrow."
Gabbay, meanwhile, made clear later on Monday evening that he stood by his comments and that what he said in the televised interview was not different from comments he made in the past.
"At every meeting, conference and interview, I stress my commitment to a permanent peace agreement on the basis of a two-state solution while safeguarding Israel's security, and make the clear distinction between the settlement blocs and the isolated settlements," Gabbay told party activists, according to Channel 2.
"On the other hand," he continued, "I do not think it is appropriate to draw at this stage the boundaries of the negotiations, including the issue of the immediate evacuation of all the settlements, and there is no place to commit to it as a preliminary statement at this stage. I say and emphasize at every opportunity that any solution that will lead us to an agreement deserves to be examined and weighed carefully. What was published today is no different from this position."
Members of the political establishment have speculated that Gabbay is trending towards the right politically in order to present himself as a viable alternative to Prime Minister Binyamin Netanyahu.
Prior to Monday's comments, Gabbay said at a conference of Labor Party activists in Dimona on Sunday that both Israelis and Arabs must understand that Israel is the stronger party.
"We have to understand a very simple thing - we are the strong ones here. They always scare us, but we are the stronger ones. We are stronger than the Arabs. We do not have to be afraid of them – the Arabs have to be afraid of us," Gabbay said.
"One cannot compromise [on the issue of security]," he continued. "One cannot just say, 'It's okay, I understand, they fired only one missile.' There is no such thing. If they fire one missile - you fire twenty. This is the only thing they understand in the Middle East."
Those comments come a day after Gabbay said that he would not sit in the same coalition as the Arab Joint List party.
"We will not sit with them, unequivocally. I do not see anything that connects us to them," Gabbay said at a cultural event in Be'er Sheva.