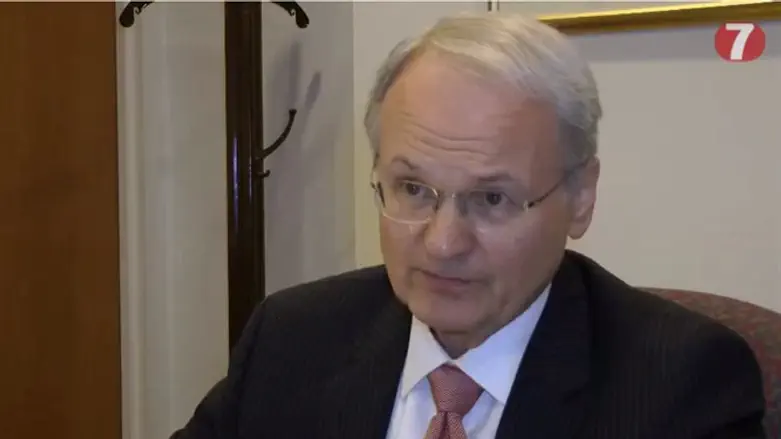 Morton Klein
Eliran Aharon
Zionist Organization of America (ZOA) President Morton A. Klein has issued a press release publicizing the success of a campaign to bring about the cancellation of two planned Center for Jewish History's (CJH) and American Jewish Historical Society (AJHS) programs.
Spearheading the protests against the planned events and the choice of CJH head David Myers was the well-known CEO of 5WPR, Ronn Torossian.
The programs were co-sponsored by Israel boycott promoter Jewish Voice for Peace (JVP) and featured JVP leaders. One of the programs concerned the Balfour Declaration and was titled "The Balfour Declaration: Support for a Jewish Homeland or Jewish State? Is there a difference?" and the other was the play Rubble, Rubble by anti-Zionist JVP leader Dan Fishback.
The Anti-Defamation League (ADL) considers JVP to be one of the "top 10 anti-Israel groups; the worst of the worst."
Despite protests, CJH CEO David Myers remains in his position. According to a report by ZOA, Myers used false and fictional accounts to libel Israel and Israeli Jews, claiming historical facts which do not fit his opinion to be "myths." Myers is involved in organizations hostile to Israel, and has caused damage to pro-Israel students on college campuses.
The boards of CJH, American Jewish Historical Society, American Sephardi Federation, Leo Baeck Institute, Yeshiva University, and YIVO approved Myers' appointment to the position heading what is considered the largest repository of Jewish history in the United States.
Myers serves on the board of the New Israel Fund, the advisory council for J Street, and has participated in an If Not Now fundraising drive. Evidence of past association with Jewish Voice for Peace is denied by JVP. As Daniel Greenfield of the Horowitz Center notes, "There is hardly an organization in the anti-Israel network where Myers hasn't left his fingerprints."
In 2014, Myers was honored by Peace Now, and he has regularly co-written op-eds with the head of the New Israel Fund, where he calls for Arabs in Judea and Samaria to be provided with Israeli citizenship . He also writes that BDS should not be "demonized", and that another way to think about BDS is that the 'settlements' cause it. Similarly, the occupation is largely the cause for the United Nations hostility towards Israel in Myers' eyes.