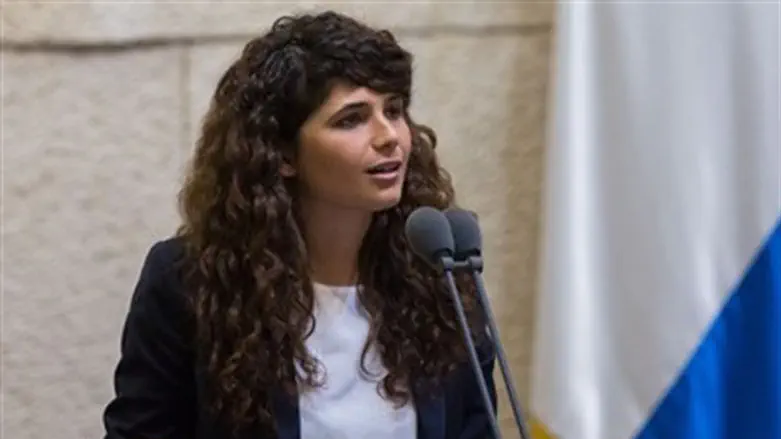 Sharren Haskel
Yonatan Sindel / Flash 90
MK Sharren Haskel (Likud) responded to the Mayor of Hevron's announcement that he will appeal to the High Court of Justice to prevent Israel from building new houses in Hevron's Jewish community. Israel recently announced that it will build 30 new units in Hevron's Jewish community, the first time it has built there in 40 years.
"Hevron's Mayor is a convicted terrorist who murdered six people, wounded dozens of children, and brags about it to his constituents," said Haskel.
"The mayor is a terrorist who is perceived as a national hero and engages in inciting hatred and incites violence against Israel," she added. "The Palestinian leadership, including people such as Abu Sneinah, is what stops the peace process, not the construction of Jewish settlement."
"The Jewish community in Hebron, the city of our forefathers, has existed for over 3000 years, we will continue to act to strengthen it and see it flourish" Haskel concluded.
Hevron's Mayor, Tayssir Abu Sneinah is a member of the terror cell which carried out the May 1980 terror attack on Beit Hadassah, killing six civilians and wounding twenty more. He received a life sentence but was released during the prisoner swaps of the 1980s.
Abbu Sneinah had announced on Monday that he intends to appeal to the Supreme Court in an effort to halt Israel's plan to build 30 new units in Hevron. Despite the fact that Jews enjoy full rights over the land in question, the Arab municipality has a certain status over the land, and it plans to submit the petition on this basis.
It should be noted that just recently, the Ministry of Justice determined that the status of the Arab Hevron municipality in the Jewish settled area is null and void. However, another opinion of the current Military Advocate General, Sharon Afek, argued that such status indeed exists and does not allow for the allocation to Jews of land that has not been allocated to them thus far.
Hevron's Jewish community had slammed Abu Sneinah as "one with bloodstained hands," and called on the Israeli government not "to allow this murderer to delay construction in Hevron, even by one day, through futile petitions."