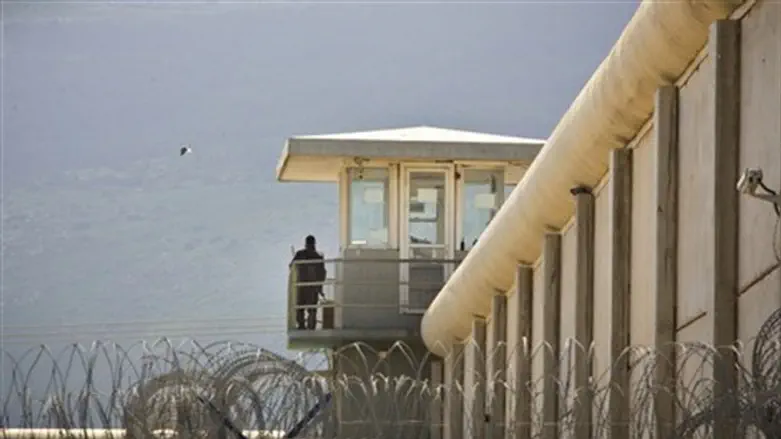 Israeli Prison (illustrative)
Flash 90
Army investigators probing the sudden collapse and death of a 19-year-old female soldier recently have not found evidence of misconduct or negligence by prison officials or medical staff, sources told Walla News, and no indictment is expected in the case.
The soldier in question, D., a 19-year-old mechanic assigned to an Israeli Air Force base, was arrested three weeks ago for possession of marijuana, which authorities believed she kept both for personal use and to sell to other service members on the base where she was stationed.
Following her arrest, the soldier was transferred to the IDF's Prison Four, part of the Tzrifin army complex.
Two weeks ago, the soldier, a former professional athlete, collapsed while being held in custody, and remained unconscious until her death Tuesday. She was immediately evacuated to Beilinson hospital in Petah Tikva for treatment, where she was listed in critical condition.
Days after her death, the IDF announced it would probe D.'s collapse and subsequent death.
Authorities revealed that just one day prior to her collapse, D. had complained to prison medical staff of severe pains.
Yet according to a report Tuesday by Walla News, sources close to the investigation say that no evidence of negligence, malpractice, or other criminal behavior has been found, and that no indictments are likely to be filed in the matter.
Shortly after D.'s death, some fellow inmates claimed that medical care at Prison Four was notoriously poor, and that D.'s case had shed light on a long-standing problem.
"It's just a question of time when such a thing would happen," another female soldier who had been imprisoned with D told Channel 2. "When a soldier complains that something hurts, they assume that you just want to get medical leave. You have to fight to see a doctor - in this case, it ended in death - it's completely a story of neglect."
"I have seen at least three cases that I can think of with girls having reached difficult health situations. These cases are not treated in the prison health system, chances are they will let you see a medic who doesn't know anything and the maximum she can do is prescribe painkillers."
The IDF rebutted the contentions, saying in a statement that "the prison bases include medical personnel, doctors, and mental health officers, who provide help for prisoners in accordance with their needs. Every soldier who is admitted to a military prison undergoes a reception call that includes meeting with medical personnel and receives medical treatment if necessary."