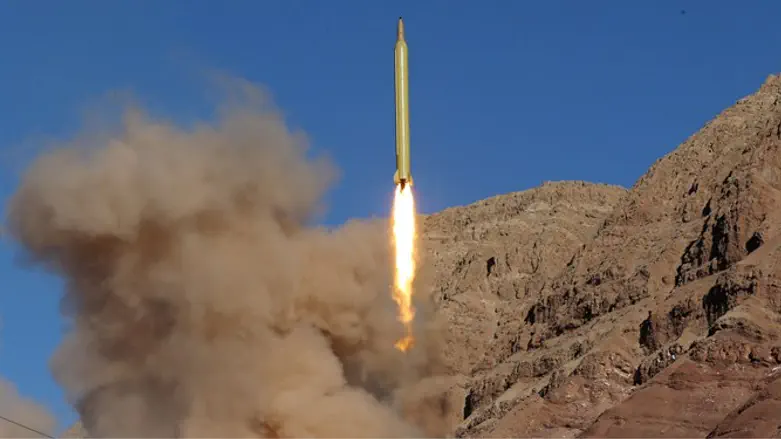 Ballistic missile launched and tested in undisclosed location, Iran
Reuters
The Iranian regime made dozens of attempts to acquire technology critical for its nuclear weapons and ballistic missile programs, Fox News reported Monday night, a possible violation of the 2015 Joint Comprehensive Plan of Action (JCPOA), better known as the Iran nuclear deal.
Fox News cited three German intelligence reports which indicated that agents working on behalf of Tehran made "32 procurement attempts… that definitely or with high likelihood were undertaken for the benefit of proliferation programs."
The attempted acquisitions, aimed at technology useful for advancing Iran's military nuclear program and efforts by the regime to manufacture effective medium-to-long-range delivery systems for a future atomic weapon, reportedly took place in 2016 – after the JCPOA took effect in January of that year. Efforts to obtain such technology are prohibited under the JCPOA.
All of the procurement attempts took place in Germany's North Rhine-Westphalia – a state in western Germany including major population centers like Cologne, Dusseldorf, and Essen.
In addition, German intelligence officials noted that not only Iran, but Pakistan, North Korea, and Sudan used "guest academics" to attempt to obtain uranium enrichment technology.
"An example for this type of activity occurred in the sector of electronic technology in connection with the implementation of the enrichment of uranium," one of the German intelligence documents read.
The German intelligence reports also warned that Iranian efforts to acquire long-range ballistic missile technology continued "unabated", and if obtained would enable Tehran to directly threaten Europe.