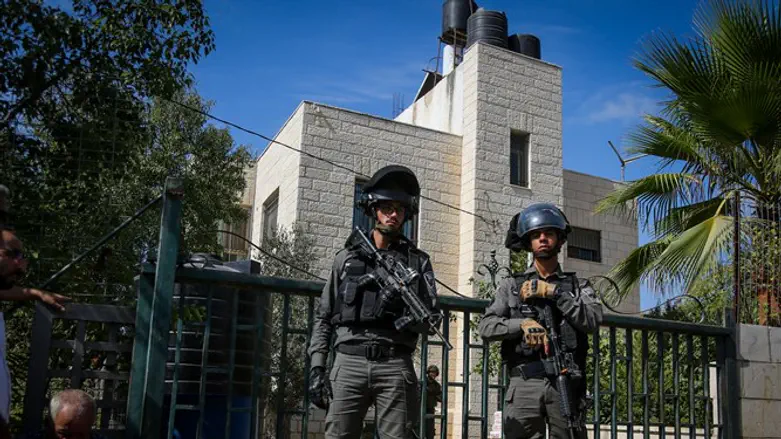 Israeli forces outsidwe of Har Adar murderer's house
Flash 90
Issam Ottman, the father of security guard Youssef Ottman who was killed in last week's attack in Har Adar, spoke at a memorial service for the victims and talked about the pain he felt over losing his son.
"We need to be strong," said Ottman. "If we are not strong enough, God would not choose to give us this challenge. If we were not strong enough, he would not have brought this pain down on us."
"It's a very heavy price. It will accompany us for life," continued Ottman. "We cannot appear to be weak and go down on our knees. We must not give them the pleasure of seeing us weak. I make sure that they can't see me crying. I don't want to give them the pleasure."
"With the help of God, the IDF, the security establishment, and the Israel Police will take care of them to the very end," added the bereaved father. "[Prime Minister Binyamin] Netanyahu promised that he will take severe measures against this lowly terrorist and his family, but it isn't enough for me. It's a shame they didn't send them to Syria."
"This lowly terrorist wanted to reach the school," Ottman said. "He surprised the security guards. We shouldn't believe these stories they tell us, that he argued with his wife and decided to commit a terror attack. What, every single person who argues with his wife goes and shoots people? I don't know anyone like that."
On Monday, Israel announced that it intends to demolish the house of the terrorist from the Samarian Palestinian Authority village of Beit Surik, who carried out the attack at the checkpoint in Har Adar. Netanyahu had earlier promised that the home of the murderer will be demolished, in line with Israel's policy of destroying homes of terrorists.
"The IDF has already surrounded the village and we will nullify the work permits held by all of the terrorist's relatives," Netanyahu told ministers at a cabinet meeting.
(Arutz Sheva's North American desk is keeping you updated until the start of Sukkot in New York. The time posted automatically on all Arutz Sheva articles, however, is Israeli time.)