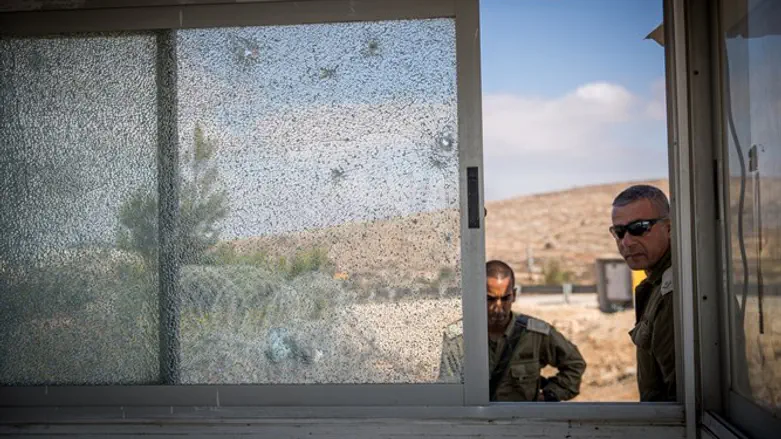 Har Adar
Yonatan Sindel / FLASH 90
Amit Steinhardt, the Har Adar security officer wounded during the attack in which two security guards and a border policeman were killed, was released from the hospital to his home.
In an interview with Channel 2, he spoke about the seconds during which the attack took place and the moment when he shot and killed the terrorist, and also about the fear that he would not emerge alive.
Steinhardt told of the two bullets that hit and wounded him."My left lung collapsed, the second bullet almost hit me on the spine, but the big bone stopped it. When the reinforcements arrived, I allowed myself to sit down and take a breath and asked to speak to my wife because I was not sure I'd be home again."
In the seconds preceding the attack, he related how he had spotted the terrorist, familiar to him from his years of work at Har Adar, but noticed that unlike the past, he did not follow instructions. Steinhardt intended to tell him to turn around and leave, but when he turned to pick up his pen from the van, the attack had already began.
He also described the struggle between the terrorist and the security guard who was murdered in the attack, and described how the physical confrontation between the two allowed him to recover himself and shoot the terrorist: "Uri confronted him with his bare hands in an attempt to disarm him;Uri is the one who actually gave me the second or two to respond.He also shouted: 'Amit, I saved you,' and looked at me.I remember that clearly.He knew I was the one who ended what he started."
Steinhardt noted, "This was the first time I pulled out a weapon and shot a person. This is the first time I killed a person, and I don't regret it."