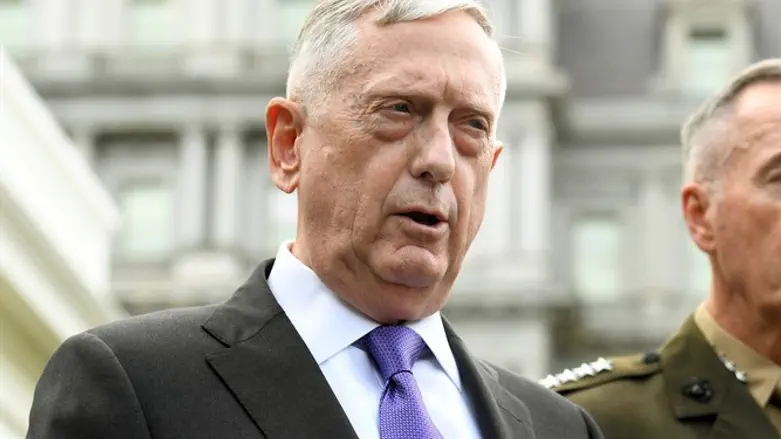 James Mattis
Reuters
U.S. Defense Secretary James Mattis on Tuesday backed Secretary of State Rex Tillerson's effort to find a diplomatic solution to the crisis with North Korea, AFP reports.
His comments came two days after President Donald Trump appeared to undermine Tillerson by saying the Secretary of State was "wasting his time" by maintaining contacts with Kim Jong-Un's regime.
Trump subsequently vowed that he would not fail as his predecessors did in trying to stop North Korea's nuclear program.
"Being nice to Rocket Man hasn't worked in 25 years, why would it work now? Clinton failed, Bush failed, and Obama failed. I won't fail," Trump tweeted.
State Department officials insist Trump was not criticizing Tillerson, but pressuring Kim's regime to agree to discuss its disarmament while a diplomatic option remains on the table.
Mattis, in testimony to the Senate Armed Services Committee, said on Tuesday the Pentagon stands behind the strategy and singled out Tillerson for support.
"The international community... is focused on the destabilizing threat posed by North Korea and Kim Jong-Un's relentless pursuit of nuclear and ballistic missile capabilities," he said, adding, "The Defense Department supports fully Secretary Tillerson's efforts to find a diplomatic solution but remains focused on defense of the United States and our allies."
Earlier this week, Tillerson told reporters that he was "probing" whether the North is ready for talks on the denuclearization of the Korean peninsula.
"We have lines of communications to Pyongyang. We're not in a dark situation, a blackout. We have a couple, three channels open to Pyongyang. We can talk to them. We do talk to them," he said.
This revelation appears to have triggered Trump's tweeted response, and on Monday the White House said that "now is not the time" to talk with North Korea, and that the only exception would be talks aimed at bringing home Americans detained by the isolated country.
Mattis, however, insisted on Tuesday that the government is working together as one to counter its most urgent threat.
"President Trump's guidance to both Secretary Tillerson and me has been very clearly that we would pursue the diplomatic efforts," he told lawmakers.
"All we are doing is probing, we are not talking with them ... So I don't see the divergence as strongly as some have interpreted it," he added.
Tensions have risen recently between the U.S. and North Korea, as Pyongyang has continued its nuclear and ballistic missile tests in defiance of UN sanctions.
In a recent speech at the United Nations General Assembly, Trump threatened to "totally destroy" North Korea if it threatens the U.S. or any of its allies, deriding Kim as "Rocket Man" and warning he is on a "suicide mission."
In response, North Korean's foreign minister said Trump had made an "irreversible mistake" and threatened the "entire U.S. mainland" with missiles.