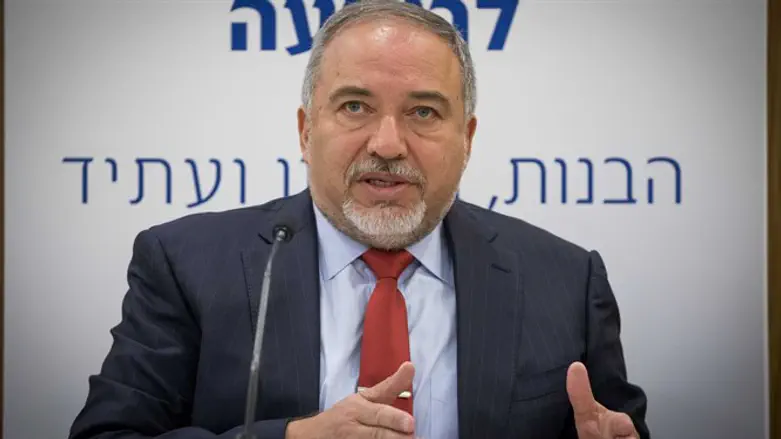 Avigdor Liberman
Yonatan Sindel/Flash 90
Defense Minister Avigdor Liberman (Yisrael Beiteinu) launched a blistering attack on the Joint Arab List party, charging that it works to overthrow the State of Israel.
Speaking at an event celebrating the opening of Israel's first mixed Jewish-Christian Arab pre-Army program at Kibbutz Bet Zera, Liberman said that "Unfortunately, the Israeli Arab political leadership, as represented in the Knesset by the Joint List, has become a fifth column, and acts as the senior representative of terrorist organizations in the Knesset."
Liberman contended that the majority of Israeli Arabs are loyal to the State and urged them to choose a more fitting representation. "I call on the silent majority of Israel's Arab citizens, who are loyal to the state and are responsible people, to establish an alternative political leadership that will make it clear that despite the importance of the Palestinian issue, we are first and foremost citizens of the State of Israel."
Liberman added that "the time has come to integrate those who see themselves as a part of Israeli society, including putting them in key army positions and I am sure that in the future, senior officers from the IDF and the defense establishment will emerge."
"At the same time, I also believe that the time has come to bring those who undermine the state to justice, including those who harm you and your families, and try to prevent the full integration of the Christian community into Israeli society."
Liberman has been a prominent opponent of the Joint List, famously telling Joint List head MK Ayman Odeh in 2015 that "you are not wanted here. You are a Palestinian citizen, you identify as Palestinian, so go to Abu Mazen [Mahmoud Abbas] — he will pay your salary, your unemployment benefits, your convalescence, your laziness benefits."