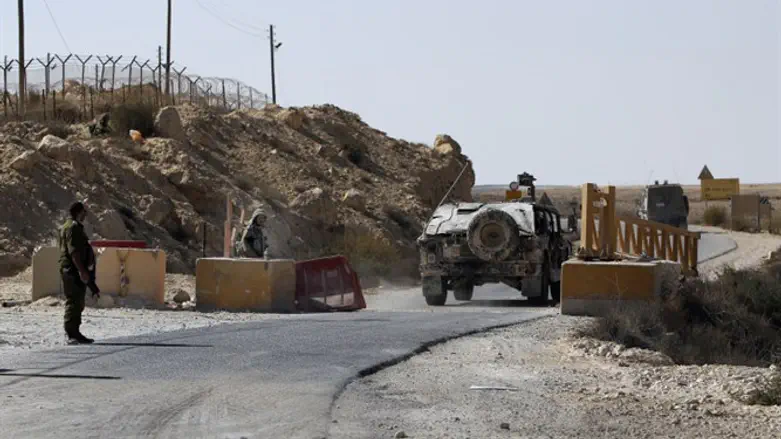 IDF base (illustrative)
Flash 90
An IDF officer responsible for guarding top-secret war plans was imprisoned for 28 days after the classified plans were swiped from the Southern Command's base by visiting officers.
On Tuesday, officers from the IDF Operations Division who were sent to conduct an inspection in one of the Southern Command bases succeeded in reaching a classified military order and removing it from the base.
The officer in charge of operational security was summarily sentenced to 28 days in military jail, an exceedingly high sentence in the IDF.
An IDF Spokesperson stressed the seriousness of the event, saying that "at the end of an investigation conducted by Southern Command head Major General Eyal Zamir, it was decided to carry out disciplinary measures against the officer who left classified material in his office in violation of orders. The officer was sentenced to 28 days in jail."
"The IDF attaches great importance to its operational security procedures and any event like this one will be handled with severity," added the spokesman.
The IDF has been growing increasingly sensitive to unauthorized access to military bases. In early September, the army was caught red-faced after a reporter from Kan television channel managed to walk off with a heavy machine gun from an IDF logistical base simply by donning an IDF uniform, which is available at any camping store.
On Monday, a break-in at a military warehouse in northern Israel was discovered. Weapons were stolen from the site, including anti-tank bombs, anti-tank mines, and bullets. Military police launched an investigation.

About a month ago, an IDF base in southern Israel was broken into and more than 15,000 rounds of 5.56mm caliber ammunition were stolen. In May, over 30 weapons were stolen from the Sde Teiman base in the south.