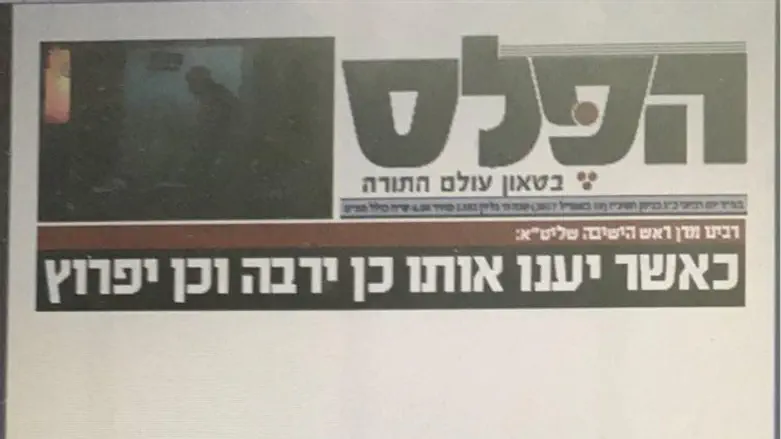 Hapeles newspaper
Hapeles
Israel's Government Advertising Agency has decided to yank all government advertising from the haredi Hapeles publication in wake of the newspaper's extremist stance against haredi IDF soldiers.
The move was approved by the Justice, Defense, and Internal Security Ministers, who decided that the government should not be supporting Hapeles when it has been running virulent incitement against haredi IDF soldiers for years.
Hapeles is the mouthpiece of the extremist Jerusalem Faction, which is connected with Rabbi Shmuel Auerbach and has been locked in a power struggle with the mainstream haredi community ever since the death of Torah Sage Rabbi Sholom Elyashiv in 2012. The Jerusalem Faction considers Bnei Brak-based Rabbi Aharon Leib Shteinman to be an illegitimate leader, and has revolted against his authority, splitting the hierarchical haredi world.
In May, police arrested senior members of Hapeles over blackmail allegations. According to authorities, Hapeles pressured businesses into advertising with them by harassing and threatening company officials with ultimatums, warning that the failure to do so would be seen as an insult to a large segment of the haredi population and would have serious consequences. The harassment of the targeted officials reportedly occurred on a daily basis.
MK Oded Forer (Yisrael Beytenu) had appealed to the Government Advertising Agency in February to cease advertising in Hapeles, writing that "the newspaper is one of the central mediums inciting against IDF enlistment and encouraging rioting".