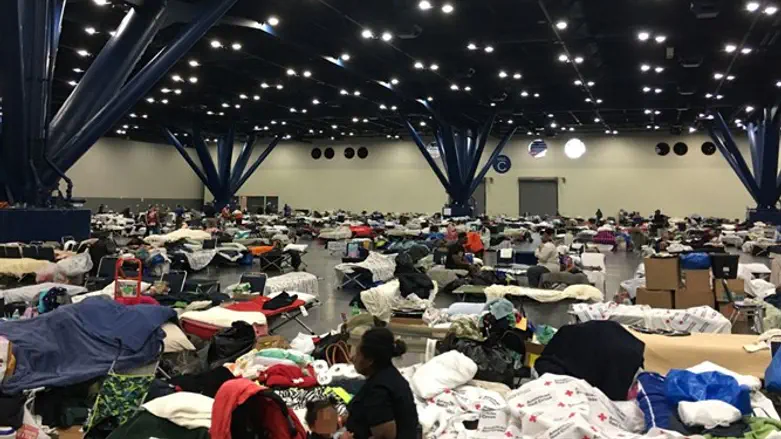 Victims of Hurricane Harvey are still in shelters
Magen David Adom
Hurricane Harvey struck Texas in August, causing vast damage and affected roughly a million people. When the storm passed and it became possible to aid the affected population and evaluate the damage, a delegation from Magen David Adom (MDA) departed Israel for the United States and began working with the American Red Cross Organization.
This is the first time an MDA delegation arrived in the United States to provide humanitarian aid. As it is the Israeli Red Cross Society, the team grouped with the American Red Cross, joining its humanitarian efforts in shelters and neighborhoods.
Since Hurricane Harvey, additional natural disasters took place, causing people to forget about Harvey and believe that the emergency in Houston is over. However, MDA delegation members say otherwise, telling about their experience assisting people who have lost their homes and belongings.
Today in Houston, rivers are still overflowing and several areas are still flooded. In many neighborhoods the sewage system collapsed and thousands of elderly were evacuated from their homes and forced to come up with temporary solutions for places to stay.
Responding to the crisis, the American Red Cross established nine shelters, 16 food centers, and nine soup kitchens. These prepare meals which are later delivered and distributed by 44 trucks. 30,000 meals are provided to those in need each day, and the number is expected to rise to as many 60,000 meals a day.
In addition to assisting the general community, MDA delegation members visited Jewish communities. Senior MDA EMTs Haim Dagan and Itzik Mor, said, "When we visited the Jewish communities, we noticed a synagogue and institutions which were badly damaged. The synagogue, which also operates a kindergarten and school, was completely flooded. Outside, there were containers with piles of holy books, tefillin (phylacteries), and siddurs (prayer books), which were damaged and destroyed by the water."
Members of the MDA delegation also said people have begun returning to their homes, despite the fact that the homes are not yet "liveable," in order to begin renovation and attempt to fix the damage.
"Even three weeks later there are homes which are still flooded," paramedics Felix Lotan and Assaf Chen said. "In certain parts of the city is seems like people have gone back to routine, but when you leave those areas you see people who have lost everything. A few days ago we encountered two retired teachers who lost their homes and savings. They were crying about not being able to afford food."
Lotan and Assaf spent Rosh Hashanah away from their families, providing humanitarian aid to population affected by the hurricane.
The portion of the population still staying in shelters (approximately 2000 people) requires help in almost every possible way. Due to the stress and uncertainty these people face, special sensitivity and treatment are required. A third of American Red Cross resources are used to assist the population of Houston and its environs. More resources are expected to be used for at least a few more weeks.
MDA paramedic Tomer Kaplan, who headed the delegation to the US, said the aid the team provided was also a learning experience.
"We must be prepared for such a scenario in Israel, and see and learn ourselves how a developed country deals with a disaster of this scale," he said. "It is important that we learn from this."
MDA Director General, Eli Bin said, "As a society of the Red Cross in Israel, we are prepared to travel anywhere in the world where humanitarian aid is required, and have done so many times in the past. I would like to thank all members of the delegation who have given up spending the Jewish holidays with their families in order to help those affected by the hurricane."
"MDA delegation members departed Israel in order to help, learn, and strengthen MDA's preparedness to national disasters such as large scale earthquakes."