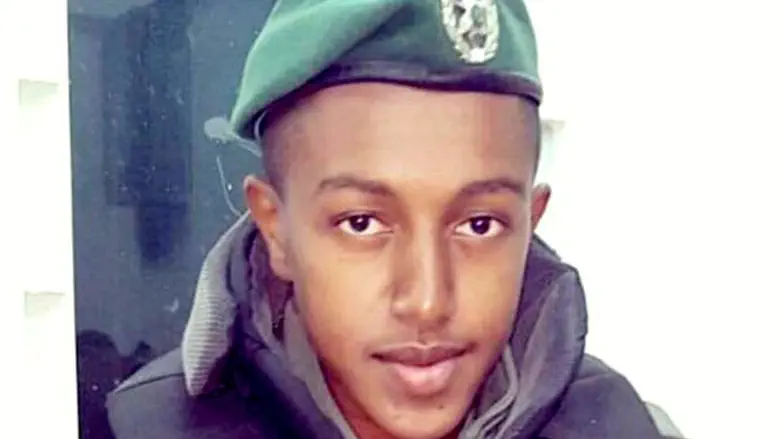 Solomon Gavriyah
Israel Police spokesperson
The older brothers of murdered Border Policeman Solomon Gavriyah, 20, learned of his death via social media.
Following the attack, Gavriyah's father told Israel's Border Police that two of his sons still live in Ethiopia.
Border Police commanders immediately began working with Israel's Defense Ministry and Foreign Ministry to transport the brothers, ages 22 and 27, to Israel, and the Israeli Embassy in Ethiopia quickly succeeded in locating them.
However, by the time the Israeli Embassy contacted them, the brothers - who had not seen Solomon in a decade - had already learned of his death via social media.
"We were in the middle of a holiday celebration here in Ethiopia when we saw pictures of him on Instagram and Facebook next to a memorial candle," JerusalemOnline reported one brother as saying. "I thought that if something would've happened to him, I would be told. Then my uncles arrived and gave me the bad news. In one moment, the celebrations turned into heavy mourning."
The two brothers landed in Israel on Friday morning, where they were met by Gavriyah's commanders.
On Tuesday morning, 37-year-old Beit Surik resident Nimer Mahmoud Ahmed Aljamal refused to undergo a security inspection and instead opened fire, wounding one person and killing Gavriyah and security guards Youssef Ottman, 25, from Abu Ghosh and Or Arish, 25, from Har Adar.
Aljamal had worked for several years prior to the attack as a cleaner in Har Adar. On Thursday, Channel 10 reported that Aljamal trained prior to the attack.