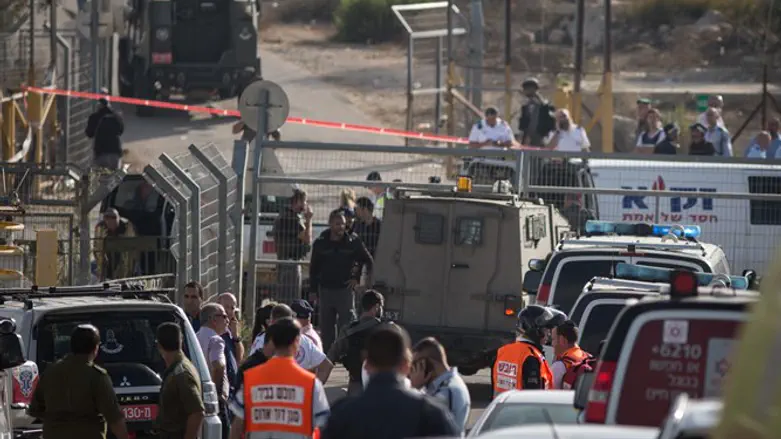 Scene of Har Adar terror attack
Hadas Porush, Flash 90
The terrorist who murdered three people and wounded a fourth on Tuesday trained prior to the terror attack, Israel's Channel 10 reported Thursday.
According to the report, the terrorist's gun - which was reported stolen in 2003 - jammed during the shooting incident, but he quickly cleared the jam to continue shooting. Security forces arrested the man suspected of providing Aljamal with the weapon.
The attack, carried out by 37-year-old Beit Surik resident Nimer Mahmoud Ahmed Aljamal, took place at the back entrance to Har Adar, northwest of Jerusalem.
Aljamal carried a work permit allowing him to enter Israeli towns in the "Seam Zone" between the separation barrier and the Green Line separating pre-1967 Israel from Judea and Samaria.
He had worked for several years prior to the attack as a cleaner in Har Adar.
On Tuesday morning, he approached the back gate to Har Adar carrying a concealed pistol. When security officers ordered him to halt for inspection, he drew the weapon and opened fire, wounding one person and killing Border Policeman Solomon Gavriyah, 20, and security guards Youssef Ottman, 25, from Abu Ghosh and Or Arish, 25, from Har Adar.