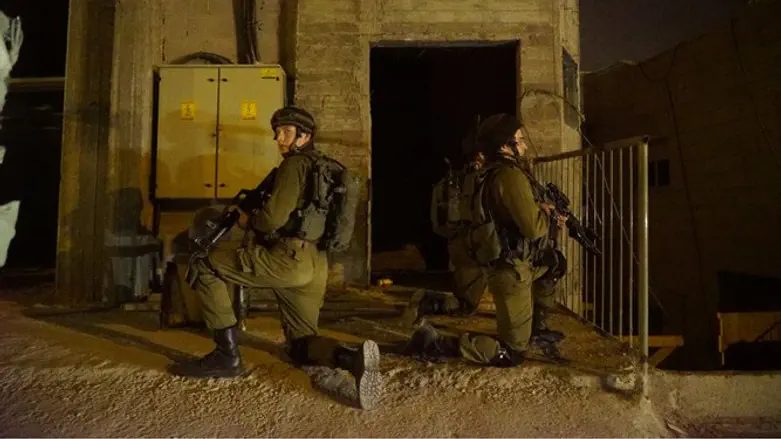 IDF Forces in Beit Surik
IDF Spokespersons Unit
The IDF has cracked down on the Palestinian Authority-controlled villages of Beit Surik and Biddu overnight, following Tuesday's deadly terror attack in Har Adar that left three security personnel dead and one seriously wounded.
Various IDF units operated relentlessly to arrest any suspect connected to terrorism. In an operation carried out by the Shin Bet and the Border Police on Thursday, two pistols were found and 50 stolen cars confiscated.
Security forces also issued orders stopping illegal construction throughout the villages, removed posters inciting locals to kill Jews, and yanked work permits held by the terrorist's relatives.
The issue of Israel's policy granting work permits to Palestinian Arab laborers enabling them to enter pre-1967 is being scrutinized after the terrorist who killed three in Har Adar possessed such a permit, allowing him to enter the Israeli community where he was employed.
"Our forces are working constantly in order to ensure the security the residents who live here," said Lieutenant Colonel Itai Zigdon, who commands the Shimshon Battalion. "Despite the fact that this is an intensive and challenging effort, we will do everything possible to remove security threats."
"We have gotten to every part of the village that is involved with terrorism, from removing posters filled with incitement to confiscating weapons. We are sending a clear message - the IDF will not allow anyone to support terrorism" added Zigdon.
צה"ל פעל בכפרים - "להסיר כל איום"