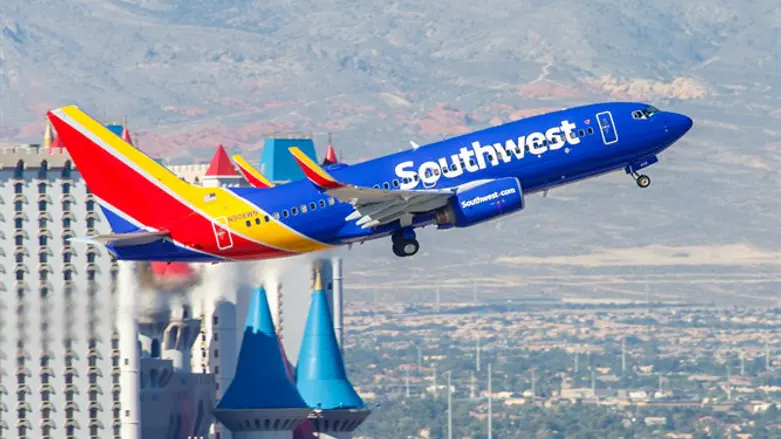 Southwest Airlines plane
iStock
Southwest Airlines apologized to a passenger who on Tuesday was physically removed from a Baltimore-Los Angeles flight after informing crew she had a life-threatening pet allergy.
Two dogs - a pet and a service animal - were on the plane, sitting with their owners.
The passenger told crew she was allergic to pets and requested the animals be removed from the flight, or to receive an injection which would prevent allergic reactions.
However, Southwest Airlines could not provide the injection, since the passenger did not present the proper documentation.
According to the airline, the passenger did not have the required medical certificate allowing her to remain on board in a potentially life-threatening situation. She was asked to exit the plane multiple times, but refused, forcing the airline to contact local law enforcement.
A spokesperson noted that the airline offered to book the passenger a flight for the next day, but she declined.
"Our policy states that a customer (without a medical certificate) may be denied boarding if they report a life-threatening allergic reaction and cannot travel safely with an animal on board," a Southwest Airlines spokesman said in a statement. "Our flight crew made repeated attempts to explain the situation to the customer, however, she refused to deplane and law enforcement became involved."
"We are disheartened by the way this situation unfolded and the customer's removal by local law enforcement officers. We publicly offer our apologies to this customer for her experience, and we will be contacting her directly to address her concerns.
"Southwest Airlines was built on customer service, and it is always our goal for all customers to have a positive experience."
In a video, the woman can be heard saying, "My dad has surgery tomorrow. I'm sorry, my dad has a surgery. What are you doing?"
She also accused the officers of ripping her clothes.
One of the other passengers, Julia Rockett, said a flight attendant requested no one record the confrontation.
Maryland Transportation Authority Police, who removed the woman from the flight, said they did so at the request of the plane's captain.
According to a statement from the Maryland Transportation Authority Police, the passenger was "arrested and charged with disorderly conduct, failure to obey a reasonable and lawful order, disturbing the peace, obstructing and hindering a police officer and resisting arrest. After processing, the individual was transported to the Anne County Court Commissioner, where she was released on her own recognizance."
In April, United Airlines forcibly removed a passenger from a Kentucky-bound plane after he refused to give up his seat to an airline employee. Later the same month, an American Airlines flight attendant accidentally hit a woman holding a baby.
In July, an Israeli family of five was forced off a JetBlue flight when their one-year-old infant kicked the seat in front of her.