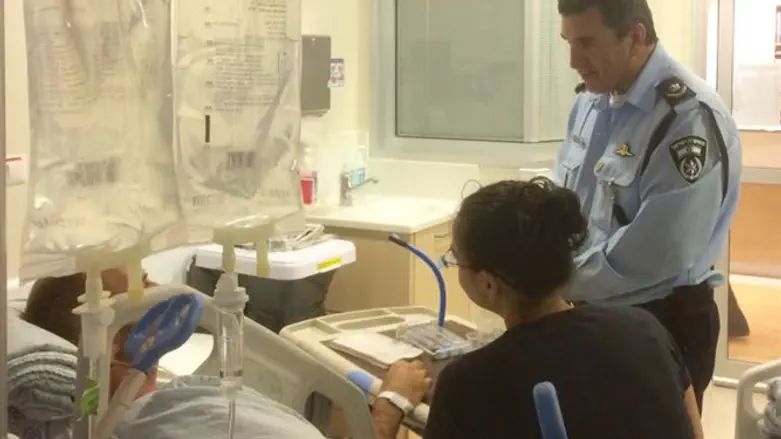 Halevi with the wounded security coordinator
Israel Police
Jerusalem District Police Chief Yoram Halevi visited Amit Steinhart, the security coordinator of Har Adar, who was hospitalized at Hadassah Ein Kerem Hospital after being seriously wounded yesterday in the murderous shooting terror attack.
"You acted valiantly and saved lives. You paid a price and were wounded, but saved lives with your body. That is our task as security personnel: to stand on the front lines, to prevent and repel attempts to attack innocent people. This is where you were, you, the guards and fighters," the police chief said.
Amit told the chief of police that he was excited and happy at his visit such a short time after the attack, and told Halevi what he remembered from the intense moments of the attack.
"I knew the terrorist like I knew all the other workers who would enter through the checkpoint into the community every day. He was always among the last to enter, and yesterday, something in his behavior aroused my suspicions, also because he was wearing a jacket on a hot day. We asked him to present his work permit. At that point, he hesitated a little and then opened his jacket and started shooting at my guards and at the Border Policeman.
"They are my friends, really my brothers. In those moments I was also wounded in the shoulder. Somehow, despite the pain gripping me, I drew my pistol and shot at him. At that point, I saw my guards and the Border Policeman who had fought bravely, sprawled on the ground. I shouted at him that he had killed three of my children, and shot him again. At that stage, other forces and MDA had already arrived at the scene and treated us. I think at that point that I already understood that I had lost my guards and Border Police fighter Solomon my friends, of blessed memories."