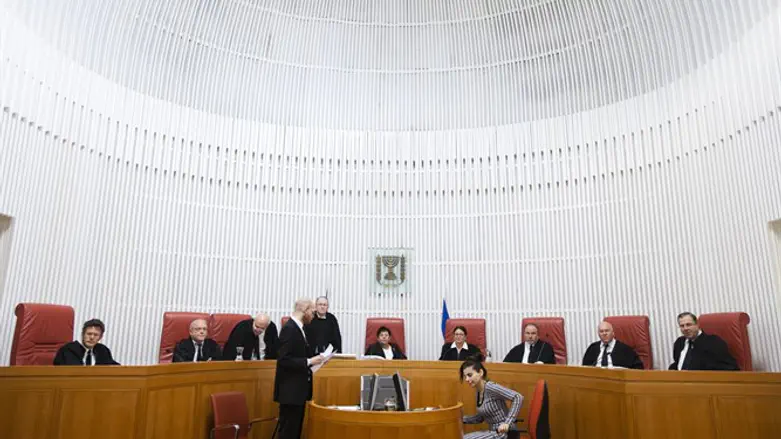 Supreme Court
David Vaaknin/POOL/Flash 90
Supreme Court judges rejected this evening, Wednesday, a petition of the Regavim organization demanding that a representative of the court participate in the official jubilee celebration in Gush Etzion marking the Jewish return to Judea and Samaria due to the event's status as a state ceremony.
"The decision not to take part in the controversial event which could be interpreted as political in character is necessary in order to maintain the independent status of the judiciary, and in order to maintain public trust in the judicial system," the judges ruled.
Likewise, the court ruled that there was no place for cancelling the state event, which had already been decided upon and accepted for some time now by the government.
Regavim noted that Justice Naor had herself participated in a ceremony that was one-sided politically. "Chief Justice Naor's response raises even greater questions in light of her participation in a December 2016 conference at The Jerusalem Ethics Center, an organization headed by Ruth Heshin, board member of Yesh Din, a radical-left NGO. At that event, which was undeniably politicized, both the organizers and the speakers were clearly identified with the radical left wing of Israel's political spectrum – but this did not seem to perturb Chief Justice Naor or to cause her any of the discomfort she is currently experiencing as a result of "the aroma of politicization.""
The ceremony will take place tonight in Gush Etzion in the presence of President Reuven Rivlin, Prime Minister Binyamin Netanyahu, Education Minister Naftali Bennett, Deputy Knesset Speaker Yuli Edelstein, local council heads, rabbis, and other public figures.
Earlier this evening, Justice Minister Ayelet Shaked sent a letter to Supreme Court President Miriam Naor in which she expressed her protest over Naor's conduct in boycotting the state event.
"In effect, your announcement violated the statehood of an official ceremony that the government decided upon, and created a false impression of an event of a political nature," wrote Shaked.
"Even though you wanted to avoid a political dispute, the goal was not achieved, and the Movement for Quality Government correctly wrote in a letter to Your Honor today that the matter will play into the hands of those who wish to portray the court as a player in the political sphere, with good intentions leading to bad consequences," she asserted.