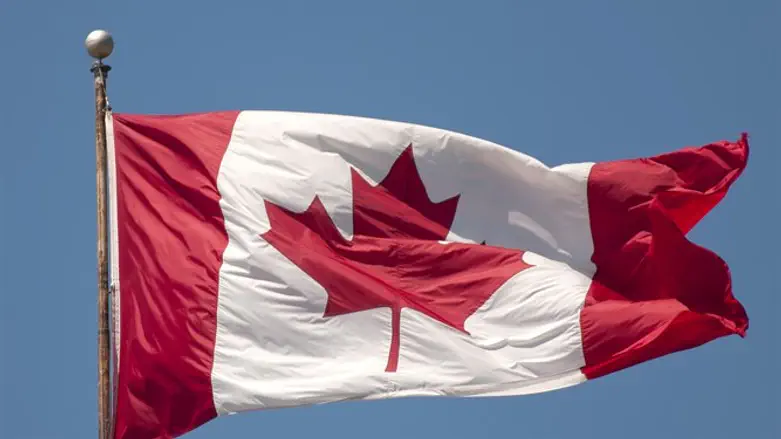 Canadian flag
iStock
B'nai Brith Canada is calling on the Ontario College of Teachers (OCT) to remove a teacher from a classroom because of her continued support for two Middle Eastern terrorists, The Canadian Jewish News reported on Tuesday.
In a September 13 complaint to the OCT, which licenses Ontario teachers, B'nai Brith stated that the teacher, Nadia Shoufani, recently wrote an article in the Arabic-language newspaper Al-Meshwar, in which she said she would "not stop quoting the words of Ghassan Kanafani," and "will not stop demanding freedom for Georges Ibrahim Abdallah."
Shoufani teaches in Mississauga, Ontario, located west of Toronto.
The article in the Arabic newspaper came after she was recorded supporting the two terrorists at the July 2016 Al-Quds Day rally in Toronto. At the time, Shoufani called Kanafani a "martyr," and criticized Abdallah's imprisonment, said B'nai Brith.
Shoufani was temporarily suspended by St. Catherine of Siena Separate School, but was reinstated following arbitration, according to The Canadian Jewish News.
The two men who are the subjects of her attention are linked to terrorist attacks that targeted innocent civilians and diplomats.
Kanafani, a Palestinian Arab author, was the spokesman for the Popular Front for the Liberation of Palestine (PFLP) terrorist organization, and was considered PFLP leader George Habash's right-hand man. Canada has designated the PFLP a terrorist organization.
Kanafani was photographed in PFLP offices with the Japanese terrorists who attacked Israel's Lod Airport in May of 1972 and murdered 26 people.
Abdallah, meanwhile, is imprisoned in France for the murder and attempted murder of Israeli and American diplomats.
Abdallah is the former leader of the Lebanese Armed Revolutionary Factions. In 1987, he was sentenced to life in prison for his involvement in the 1982 murders of U.S. military attaché Charles Ray and Israeli diplomat Yakov Barsimentov in Paris, as well as in an assassination attempt on Robert Homme, an American consul in Strasbourg.
"It's hardly surprising that Shoufani would continue to support terror leaders, given that there were no consequences for her initial comments," said Michael Mostyn, CEO of B'nai Brith Canada.
"By doubling down, she has demonstrated a pattern of unacceptable behavior and we demand that the OCT and the Dufferin-Peel Catholic District School Board remove her from the classroom," he added.
Pointing to the OCT's own guidelines, Mostyn said teachers can be sanctioned for "conduct unbecoming," even if the activity occurred outside the classroom.
While there is no evidence that Shoufani has brought her views on the Middle East into the classroom, "given that Shoufani has now demonstrated a clear and defiant pattern of behaviour, we are indeed concerned that she will promote her views in the classroom as soon as she finds an opportunity to do so," Mostyn stated.
The Centre for Israel and Jewish Affairs (CIJA) had asked the school board to investigate Shoufani after her remarks at the Al-Quds Day rally, and has written again to the board, following her article in Al-Meshwar, Berl Nadler, chair of CIJA Toronto, told The Canadian Jews.
Responding to queries from The CJN, Olivia Yu, OCT's senior communications officer, stated, "The College is aware of the most recent media coverage regarding Nadia Shoufani. We only comment publicly about a matter when it has been referred by our discipline committee for a public hearing. We never comment on matters at the investigation stage. We cannot comment further."
In July, Toronto Police were urged to charge a local imam with hate speech after he allegedly said at an Al-Quds Day rally, "Israel, Zionism, should and must know (speaking Arabic)... It is the law that whoever oppresses, he has to be eliminated. One day or the other."
Al-Quds Day is an Iranian sponsored holiday which is marked on the final day of Ramadan, and is generally used to incite against Israelis and Jews.
During the 2013 rally in Toronto, one of the speakers called for Israelis to be killed. Video footage uploaded to YouTube showed the speaker, Elias Hazineh, saying at the rally, "We have to give them an ultimatum. You have to leave Jerusalem. You have to leave Palestine."
Another speaker at the same rally attacked the Ontario Parliament's decision not to allow the rally outside the parliament building, saying that the area had "become a Zionist occupied territory."
B'nai Brith Canada last year called on the Canadian government to ban Al-Quds Day rallies in the country due to the fact that they are used as platforms to incite against Israel and against Jews.