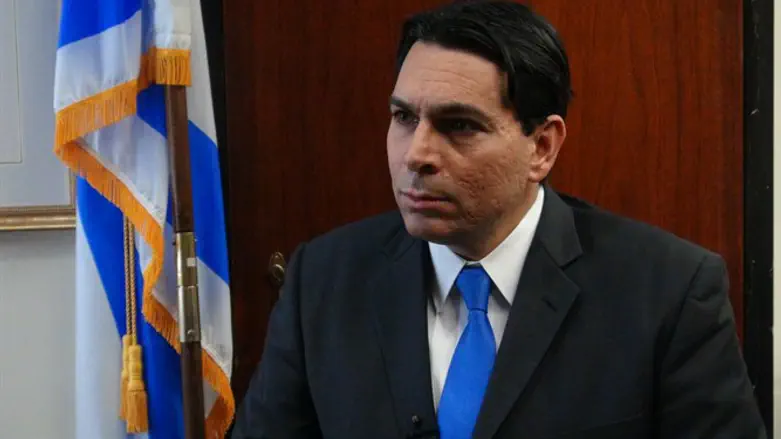 Danny Danon
Yoni Kempinski
Israel's Ambassador to the United Nations Danny Danon blamed Mahmoud Abbas' and the Palestinian Authority's policy of paying salaries to terrorists for the deadly terrorist attack at the entrance to Har Adar Tuesday Morning. Three people were murdered and one person was seriously wounded in the terrorist attack.
"This heinous terror attack did not take place in a vacuum. It was the direct result of the payments to terrorists by the Palestinian Authority. Mahmoud Abbas continues to encourage terrorism by glorifying terrorists who have committed devastating attacks against Israelis," said Ambassador Danon.
"I call on the Security Council to immediately and unequivocally condemn this horrific attack and demand that Mahmoud Abbas and the PA end their incitement against the State and people of Israel," the Ambassador concluded.
The attack was carried out by Nimer Mahmoud Ahmad Aljamal, a 37-year old laborer from the nearby village of Beit Surik, who possessed a work permit enabling him to enter Har Adar. Jamal had aroused the suspicions of the security coordinator there, and when asked to stop approaching the gate, opened fire with a pistol, killing Border Policeman Solomon Gavriyah, 20, and security guards Youssef Ottman, 25, from Abu Ghosh and Or Arish, 25, from Har Adar.
According to police, the weapon used in the attack was stolen back in 2003, and the Shin Bet security service said that Jamal did not have a criminal record or a record of being involved in terrorism.
Investigators probing that attack point to the terrorist's troubled family life and a history of domestic violence, although he had worked as a cleaner in Har Adar for years where he was known and liked.. According to a report by Kan, Aljamal's wife left him several weeks ago, moving to Jordan and leaving Aljamal to care for the couple's four children.