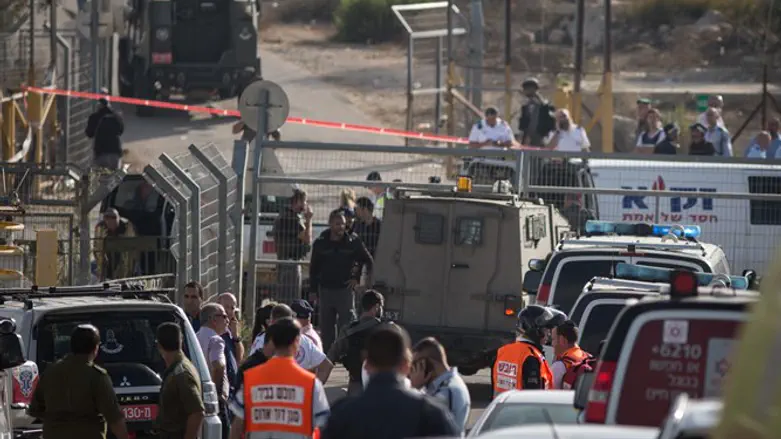 Scene of attack in Har Adar
Hadas Parush/Flash 90
The terrorist who committed the attack this morning near Har Adar worked as a cleaner in the community for years and was well-known to residents, according to NRG.
The attack, carried out by 37-year-old Beit Surik resident Nimer Mahmoud Ahmed Aljamal, took place at the back entrance to Har Adar, northwest of Jerusalem.
Aljamal, who carried a work permit allowing him to enter Israeli towns in the "Seam Zone" between the separation barrier and the Green Line separating pre-1967 Israel from Judea and Samaria, approached the back gate to Har Adar Tuesday morning carrying a concealed pistol. When security officers ordered him to halt for inspection, he drew the weapon and opened fire, killing three and wounding a fourth.
Speaking with NRG, a resident of Har Adar said that the terrorist was one of many PA workers who enter the town for work on a regular basis.
"Every day, dozens of workers enter the community through the back gate. Some work inside the community in construction and housework for families, and others work on the outskirts. They undergo an inspection and body search, and there are good relations between the residents of Har Adar and the workers," she said.
"We know the terrorist, he worked as a cleaner at several houses in the community," she added. "It's scary to think what would have happened had he succeeded in passing the checkpoint and reached the school that is several meters away, or one of the houses nearby."