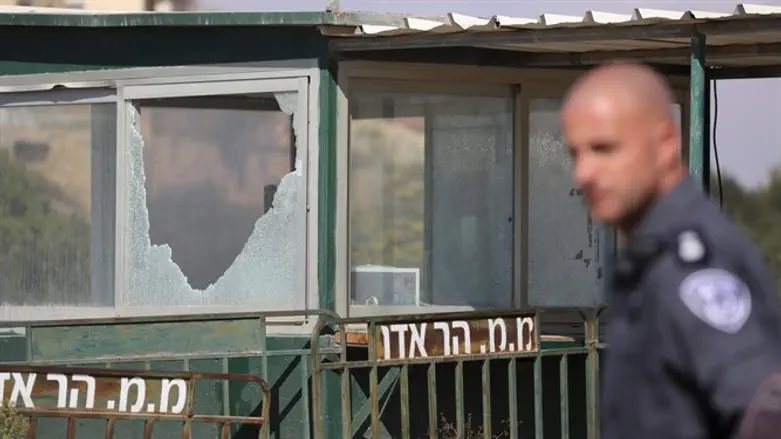 Scene of shooting attack in Har Adar
Yonatan Sindel/FLASH90
Investigators probing Tuesday morning's deadly terror attack in Har Adar say the terrorist responsible for the shooting had a troubled family life and a history of domestic violence.
The terrorist, 37-year-old Beit Surik resident Nimer Mahmoud Ahmed Aljamal, had "significant personal and family problems," Shin Bet internal security agency officials said, "including problems involving domestic violence."
According to a report by Kan, Aljamal's wife left him several weeks ago, moving to Jordan and leaving Aljamal to care for the couple's four children.
Before Aljamal went on a murderous rampage at the entrance to Har Adar Tuesday, he penned a letter for his wife in which he called himself "a terrible husband" and alluded to his plans to carry out a terror attack on Israelis.
"When you wake up this morning, see this and let it calm your conscience. You've been a wonderful wife and a kind mother; I was a terrible husband. I say this with a clear mind: my wife has no connection with what is going to happen tomorrow."
Aljamal, who carried a work permit allowing him to enter Israeli towns in the Seam Line area along the Green Line separating pre-1967 Israel from Judea and Samaria, approached the back gate to Har Adar Tuesday morning carrying a concealed pistol. When security officers ordered him to halt for inspection, he drew the weapon and opened fire, killing three and wounding a fourth.