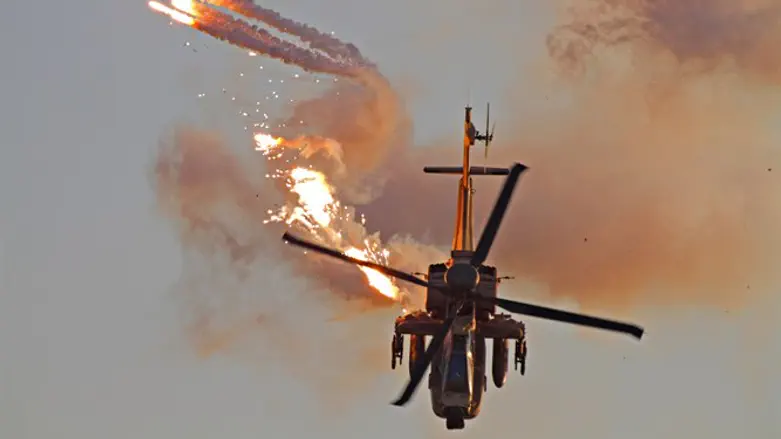 Apache helicopter releases flares
Ofer Zidon/Flash 90
The IDF has decided to return its Apache helicopters to service after they had been grounded for more than a month following the deadly crash in August that killed Major Dudi Zohar and seriously injured his co-pilot.
A preliminary report found that the crash was caused by a rare malfunction due to rust in the steering system, in what IDF officials said was the first of its kind they had ever seen. In light of the findings, the IDF decided to return the squadron to full service starting next week.
In addition, the IDF ordered all ground and air crews to receive updated instructions on how to maintain the steering column and to prevent similar instances in the future.
The accident occurred 45 minutes after take-off when the steering column disengaged from the joystick. Following the disconnection of the joystick, the helicopter became unstable. The crew declared a state of emergency and returned to the base amid very difficult flight conditions as a result of the malfunction, and plunged to the ground at 9:00 p.m.
Col. Yoav, who head of the Air Force's safety department, said that Major Dudi Zohar, the deceased helicopter pilot, had saved his co-pilot's life by deciding to return the crippled helicopter to the airfield with its emergency response crews.