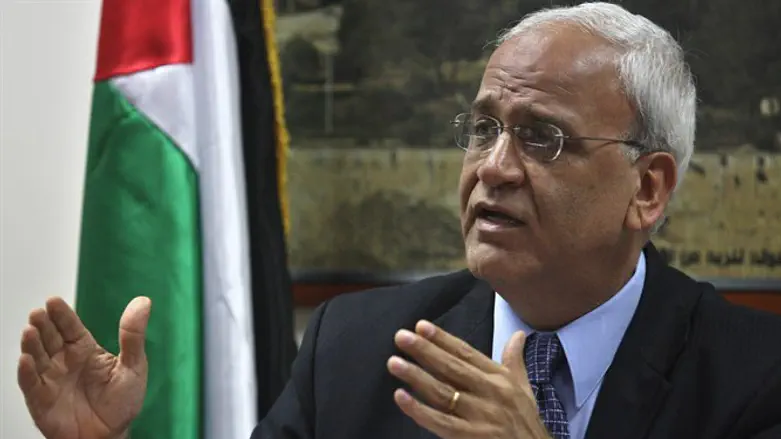 Saeb Erekat
Issam Rimawi/Flash 90
Former Palestinian Authority (PA) chief negotiator Saeb Erekat said on Sunday he is awaiting a lung transplant in the United States, after several years of battling pulmonary fibrosis, AFP reported.
Erekat, who also serves as Secretary General of the Palestine Liberation Organization, issued a video message on his health via social media.
He is being treated in Virginia in the Washington area.
"After reading a few baseless rumors, I have completed my medical tests," the 62-year-old said, adding, "Now I am on the priority waiting list to get a lung transplant any day depending on finding a matching donor."
Previous reports indicated that Erekat had taken a turn for the worse, but is hoping that a lung transplant from Israel could save his life.
The Israeli Ministry of Health and the National Transplant Center later made clear that Erekat was not on the organ transplant waiting list and would only be permitted to undergo a lung transplant in Israel under very rare circumstances.
That Erekat was hoping to possibly receive a lung in Israel for transplant is an ironic turn of events for a man who for decades accused Israel of persecution against Arabs and even genocide.
Prior to the diagnosis of his condition, Erekat often represented the PA on Western news media outlets, attacking Israel and accusing the Jewish state of genocide, massacres, and war crimes.
In 2014, Erekat defended the use of the term "genocide" to describe Israel's struggle against the Hamas terror organization in Gaza following the kidnapping and murder of three Israeli teens, and a wave of deadly rocket attacks on Israeli towns.
In 2013, Erekat accused Israel of applying a policy of apartheid in Judea, Samaria and eastern Jerusalem.