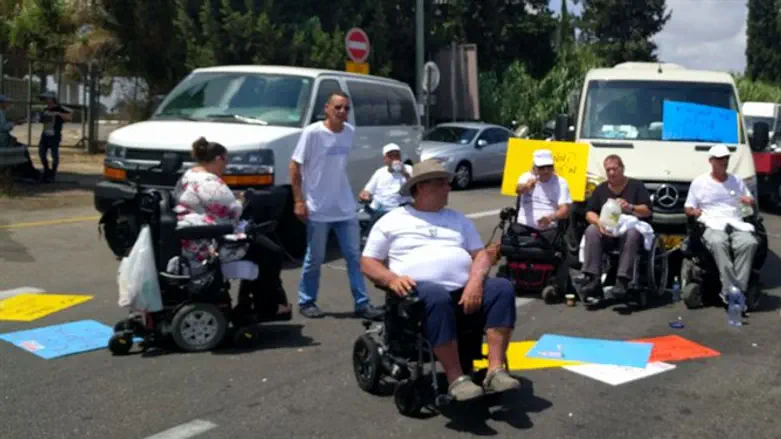 Disabled protesters
Police Spokespersons Unit
Disabled protestors blocked Tel Aviv's Ayalon Highway at Keren Kayemet LeYisrael junction as part of their ongoing campaign for higher stipends, distributing leaflets and enraging drivers heading to work after Israel's Rosh Hashanah (Jewish New Year) holiday.
Disabled Israelis have been blocking off major thoroughfares in recent weeks as part of their campaign to raise the monthly stipends they receive from the National Insurance Institute from NIS 2,342 to the minimum wage of NIS 5,000. Last week they blocked off the entrance to Ben-Gurion Airport, a major highway in Haifa, and at the entrance to Jerusalem.
The Knesset interrupted their summer recess to hold a special debate on the issue last Monday. A wide range of MK's have called for the government pass legislation that would improve the monthly payouts the disabled receive.
Health Minister Yaakov Litzman (UTJ) announced that he intended to advance moves that raise monthly stipends to NIS 3,200, and NIS 4,000 in extreme cases, and to dedicate NIS 4 billion to the issue.
The Histadrut, Israel's largest labor union, announced on Sunday that they are embarking on a campaign in support of the disabled, which will include taking out ads in Israel's major news outlets.