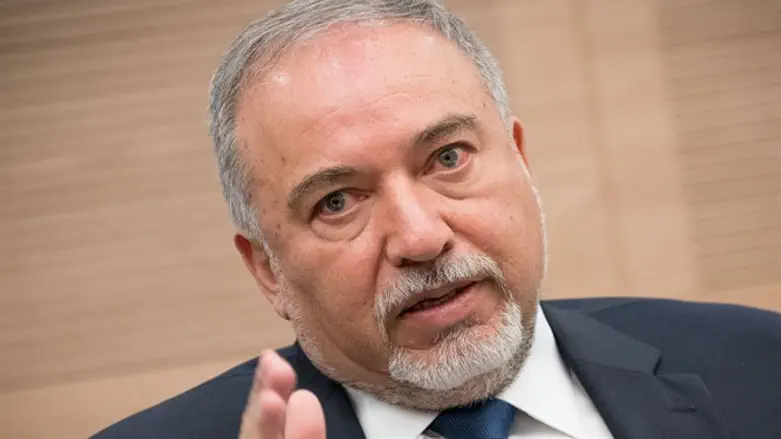 Avigdor Liberman
Flash 90
Israeli Defense Minister Avigdor Liberman (Yisrael Beytenu) on Saturday said Iran's testing of a medium-range missile proves that Tehran's ambition is to become a world power.
Iran on Saturday said it had successfully tested a missile with a range of 2,000 kilometers (1,250 miles) and that can carry multiple warheads, in defiance of US warnings.
"The ballistic missile which Iran fired is a provocation of the United States and its allies, including Israel," Liberman said in a statement. "It is both a means to test our reactions and new proof of Iran's ambition to become a world power in order to threaten the countries of the Middle East and democratic states around the world."
Earlier this week, US President Donald Trump at the UN General Assembly said Iran is destabilizing the Middle East.
Iran, Trump said, is a "rogue state whose chief exports are violence, bloodshed and chaos."
He also said he was considering canceling the "Iran deal" made in 2015, since Iran is developing missiles that could be used to deliver a nuclear warhead.
At the same time, Israeli Prime Minister Binyamin Netanyahu said since the deal Iran has been "like a hungry tiger unleashed, not joining the community of nations but devouring nations one after the other."
Netanyahu vowed to fight what he described as "an Iranian curtain" descending on the Middle East, and pledged to prevent Iran from producing any weapons that could hit Israel.
"Those who threaten us with annihilation put themselves in mortal peril. Israel will defend itself with the full force of our arms and the full power of our convictions," Netanyahu said at the UN.
UN inspectors claim Iran has fulfilled its commitments to give up its nuclear activities under the agreement, which was reached with the five permanent members of the UN Security Council and Germany.
Iran says all of its missiles are designed to carry conventional warheads only, and has limited their range to a maximum of 2,000 kilometers, although commanders say they have the technology to fly further.
That makes them only medium-range but still sufficient to reach Israel or US bases in the Gulf.