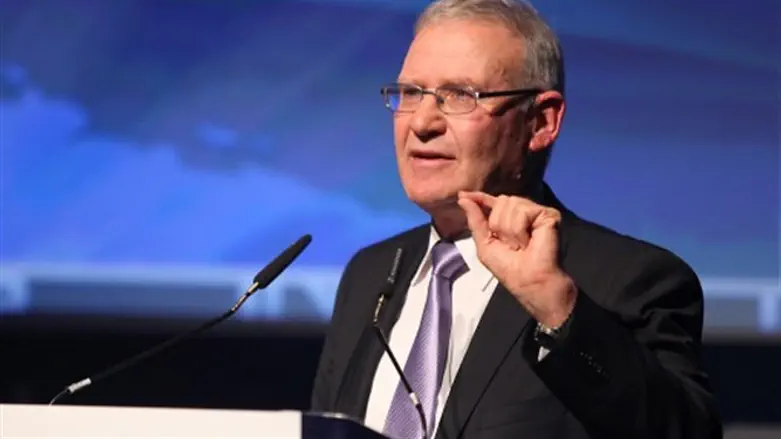 Amos Yadlin
Flash 90
Tel Aviv University Institute for National Security Studies Executive Director Amos Yadlin on Monday morning tweeted about his upcoming meeting with Israeli Prime Minister Binyamin Netanyahu and US President Donald Trump.
Netanyahu and Trump will meet on Monday, and are expected to discuss the Iran deal prior to its re-certification by the US government.
"Both Trump and Netanyahu believe the 'Iran deal' is terrible, and both would be happy to cancel it," Yadlin tweeted. "It's important to listen to the security and diplomatic sources of the two countries who aren't sure this is the best strategy."
"The idea that we can fix the deal is a fantasy. The agreement is not between Israel and the US, it's between Iran and the six nuclear powers," he explained. "The best would be if the US left the deal, but only after it prepares a realistic strategy which will prevent Iran from acquiring nuclear weapons. Even if the US leaves the deal, it won't cause an automatic cancellation. The other nuclear powers may choose to retain the deal, cooperating with Iran and not sanctioning it.
"We always need to look ahead. We need to ask ourselves if it is in Israel's and America's interests to allow the Iranians, who were set back in their quest (even if not enough) to acquire nuclear weapons quickly."
According to Amos, Netanyahu did not act before now because former US President Barack Obama was not an appropriate partner.
"In 2015, I suggested the Prime Minister sit with the US government and make a strategy for dealing with this problematic agreement," he explained. "Back then, Netanyahu said we didn't have a partner in the White House."
"Thankfully, today we have a supportive government which understands the threat very well, especially in light of what is happening with North Korea. We can't let this opportunity deteriorate into simple rhetoric, we need to make a general strategy. We need to fight Iran determinedly in every way, including those not included in the Iran deal, such as ballistic missiles, Iran's support of terror, and their involvement in Syria. We also need to strengthen our supervision of them and collect better intelligence.
"There needs to be an Israeli-American agreement which supports our understanding that Iran cannot acquire a nuclear weapon, and detailing when and how we will work together to ensure our success."