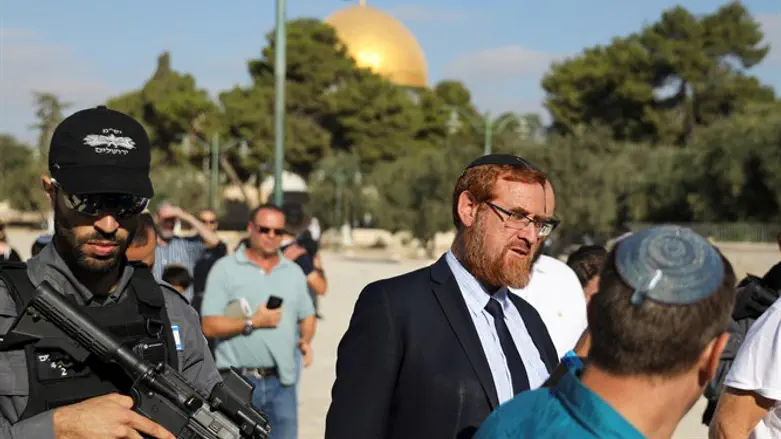 MK Yehuda Glick police escort on Temple Mount
Reuters
MK Yehuda Glick (Likud) tweeted a photo of students and faculty of the Makor Chaim yeshiva in Gush Etzion on the Temple Mount in preparation for the Jewish New Year.
The yeshiva is closely linked to prolific author, Jewish thinker, and commentator on Talmud and hasidism, Rabbi Adin Even Yisrael (Steinsaltz), known for inspiring staff and students with his personal charisma and broad knowledge.
Glick captioned the photo: "50 students of Yeshivat Makor Chaim are charging up their souls for the New Year, at the only place in the world a Jew is commanded to go," adding that "the people of Israel ascended the mountain," a play on a biblical verse.
Although Jews are commanded to ascend the Temple Mount, that commandment was intended for the Temple period. Even then, there were restrictions prohibiting those who were ritually impure for various reasons from doing so. Although many rabbis encourage ascending the Mount today, just as many prohibit it, including Religious Zionist rabbis for those same reasons, claiming uncertainty about the location of the areas off-limits to those who are ritually impure.