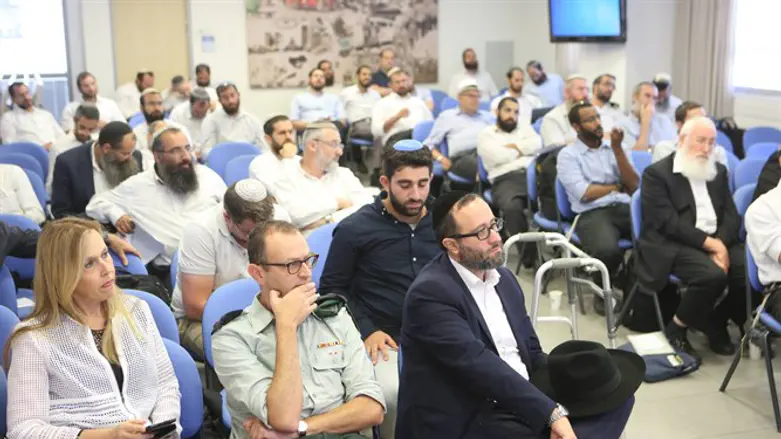 Community rabbis at the conference
PR
Over 120 rabbis from the Religous Zionist community attended the first-ever conference on suicide prevention.
The conference was titled 'Choose Life', and was run by the Barkai Center For Religious Training, who said that "the painful topic of suicide is often not spoken about because of the mistaken belief that speaking about it will increase it."
Attendees at the conference were presented with a comprehensive survey of the suicide in the religious world, and were given practical tools to combat the phenomenon. The conference was attended by Dr. Shoshi Eisenberg Hertz, Director of the Ministry of Health's Suicide Prevention Unit, Dr. Azgad Gold, Director of the Psychiatry Unit at the Beer Yaakov Mental Health Center, and Dr. Lucian Tatza-Laor, who commands the IDF's mental health department.
A prominent religious family also related their story of what they went through after their son Gilad killed himself in 2003.
Barkai Center For Religious Training founders Rabbi David Fein and Rabbi Shlomo Sobol said that "we call on all community rabbis in Israel and around the world to fight this phenomenon with us. If we had more openness and attention, we might be able to prevent the next case."
While suicide rates in the religious community are unknown, Israel's suicide rate is considered relatively low. In 2016, Israel had the second-lowest suicide rate in all 28 European countries.