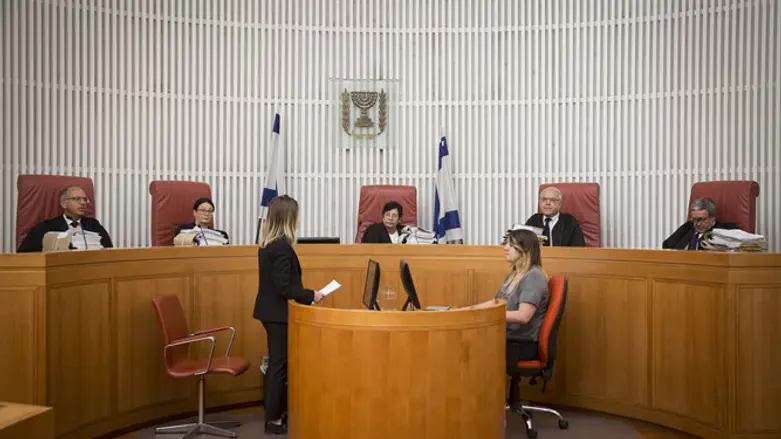 Supreme Court
Flash 90
The Supreme Court struck down a 2015 amendment to the law mandating service in the IDF Thursday, ruling that the current version of the law is unconstitutional.
The expanded panel of all nine judges struck down the version of the draft law passed by the current Knesset, which extends the exemptions given to yeshiva students until 2023. Supreme Court President Miriam Naor stated that the current version of the law "suffers from inherent problems."
The court ruled that the exemptions granted to haredim are discriminatory against the communities who do not receive exemptions.
"It will not be possible to extend the law after its validity expires later this year," the judges clarified. The decision was made by a majority vote of 8-1. Justice Noam Solberg wrote the minority dissenting opinion.
MK Yair Lapid, whose Yesh Atid party has campaigned against the automatic exemptions for yeshiva students will hold a special press conference later in response to the court's ruling, together with faction chairman MK Ofer Shelah and Maj. Gen. Elazar Stern.
The haredi Knesset parties strongly criticized the court's decision. MK Menachem Eliezer Moses, the chairman of the United Torah Judaism (UTJ) party, said: "The Supreme Court once again proved that it is disconnected from the tradition of Israel, as well as its hatred for everything close to those who learn Torah or are religious."
"The Supreme Court continues time after time to intervene in Knesset decisions in a scandalous manner. And the time has come to restore it to its natural place. UTJ will consult with the religious leaders, and at the same time we will work to enact a law that will protect us from the arrogant rulings of the Supreme Court," MK Moses added. "The Torah of Israel will continue to exist and its learners will continue to sit and study in the Torah's light despite their rullings."