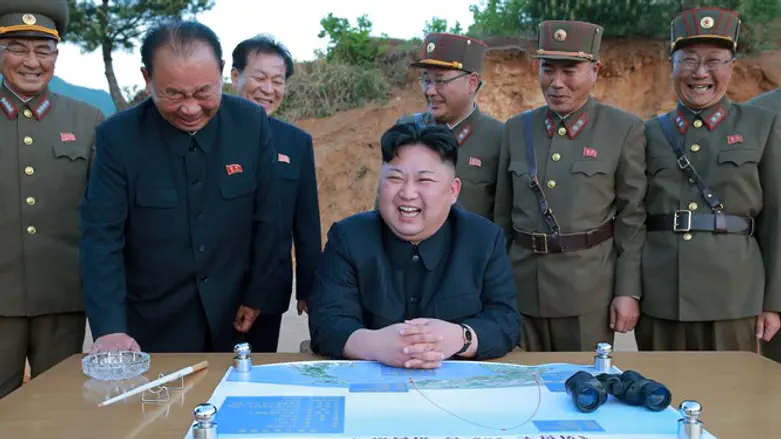 Kim Jong Un
Reuters
Israel's Foreign Ministry condemned North Korea following the rogue nation's claim that it detonated a hydrogen bomb over the weekend.
"The State of Israel condemns the nuclear test carried out by North Korea," the Foreign Ministry said. "The test is a continuation of North Korea's defiant pattern of activity. Pyongyang must accord with all the decisions of the UN Security Council on the issue and refrain from tests and development of weapons of mass destruction and their carrying devices."
North Korea's announcement of the detonation followed reports of a massive earthquake in the hermit nation Sunday morning near the country's nuclear test site, reported by South Korea's Yonhap news agency citing South Korean military officials.
The US Geological Survey recorded the magnitude of the earthquake at 6.3.
The South Korean Joint Chiefs of Staff claimed that the earthquake was "artificial," and was "presumed" to be due to North Korea's sixth nuclear test. An announcement in China similarly said that an explosion was suspected to have occurred.
Sunday's detonation was the sixth nuclear weapons test North Korea has carried out since 2006.
North Korea claimed on Saturday it has developed a hydrogen bomb (H-bomb) which can be loaded into the country's new intercontinental ballistic missile (ICBM), AFP reported, citing the official Korean Central News Agency.
US President Donald Trump suggested a military attack on North Korea was on the table following the announcement of the thermonuclear test.
Reporters questioned President Trump as he left a Washington DC church, asking the president how White House would respond to Pyongyang's first thermonuclear test, if it were confirmed.
When asked whether he would launch a military strike on North Korea, Trump answered "We'll see."
The president also said the US may impose a full embargo on North Korea, extending the ban on trade with North Korea to all states doing business with the totalitarian regime.
The United States is considering, in addition to other options, "stopping all trade with any country doing business with North Korea," Trump tweeted.