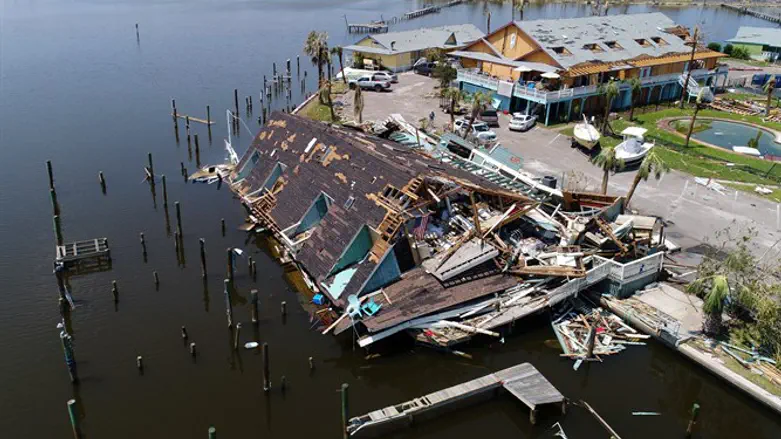 Aerial view of damage done by Hurricane Harvey
Reuters
Israel's Diaspora Affairs Ministry is advancing a plan which would grant $1 million of emergency aid to Houston's Jewish community, in an effort to help it recover from Hurricane Harvey.
The Diaspora Affairs Ministry is headed by Education Minister Naftali Bennett (Jewish Home).
"The true test of a Jewish country is when our brothers around the world are suffering," Bennett explained. "Aid sends a clear message of mutual responsibility."
The proposal will be brought before Israeli Prime Minister Binyamin Netanyahu at the Knesset's next meeting, and will go through the local consulate. It will be used to restore local Jewish institutions which do not receive municipal or state funding, such as schools, synagogues, and the Jewish community center.
Fifty people died in Hurricane Harvey, and the number is expected to continue rising. In addition, hundreds of thousands of people were left homeless. Houston's Jewish community, which numbers approximately 60,000, took a severe blow during the storm, when many of the synagogues and schools were rendered unusable. The Jewish old age home, which normally houses 300 seniors, was severely damaged, as was the Jewish community center.
In addition, thousands of Jewish families lost their homes. Thanks to Jews from around the world, a camp for the Jewish community was opened, and thousands of Jews took refuge there.
"Houston took a heavy blow last week, and 70% of the Jewish community lives in the flooded neighborhoods. Israel has a moral obligation not only to worry, but to help our brothers and sisters in the Diaspora," Bennett said.
"Schools and synagogues were flooded and are no longer usable. The old age home and the Jewish community center were damaged, and hundreds of families were left homeless. From discussions held last week with the leaders of Houston's Jewish community, and the local Israeli delegates, we understood that there is a lot of damage, and recovery may take years.
"For years, these Jewish communities have stood by Israel when we were in need of aid, and now it is our turn to stand by Houston's Jewish community."
The Diaspora Affairs Ministry is expected to spend the coming days finding a fast and efficient way to transfer aid money to Houston's community and to help fill the community's needs.