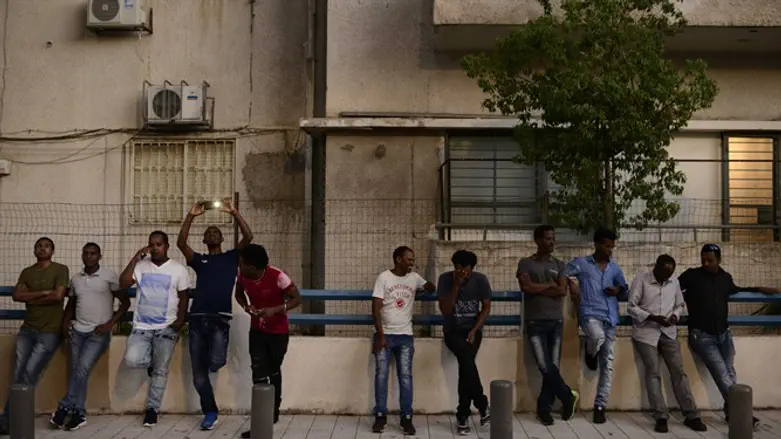 Illegal immigrants in southern Tel Aviv
FLASH90
Prime Minister Netanyahu referred at the beginning of the cabinet meeting Sunday morning to the illegal infiltrators in South Tel Aviv, after he visited the area last week.
"On Thursday I visited South Tel Aviv together with ministers Gilad Erdan, Miri Regev and MK Amir Ohana. We met there with residents, heard the residents issues. I went up with 72-year-old Sofia six floors to her apartment. The entire building except for her and one other resident, if I'm not mistaken, is occupied by illegal migrants," Netanyahu related.
Netanyahu promised to act to evict the illegal infiltrators, stressing that "the filth, the street is one thing but the fact that she can leave her tiny apartment near the roof after she has ascended to it with difficulty, she can leave once a day with an escort, she can't descend without an escort, and then ascend with difficulty, this is totally intolerable.
"The things I heard from her and from other residents reveal a terrible plight due to this serious problem of illegal infiltrators. I emphasize that this is the problem, these are not refugees, only a tiny proportion are refugees, these are illegal infiltrators in search of work in the state of Israel and we have the right like any country to supervise our borders and to remove from our borders anyone who is present here illegally," added Netanyahu.