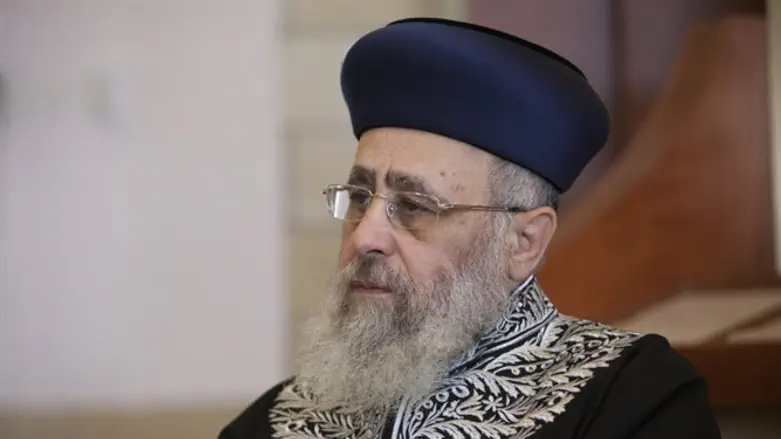 Rabbi Yitzhak Yosef
Flash 90
The Sephardi Chief Rabbi of Israel, Rabbi Yitzhak Yosef, spoke on Saturday evening about the intention of a ministerial committee to officially allow soccer games on Shabbat (the Sabbath).

"If you have soccer on Shabbat, all the playing fields will have soccer [games] and people will come there by car. Our Sephardim, whom we worry about, are traditional people who come to pray at synagogue - but they will go to Rishon Letzion and Herzliya instead. I was there a few times on Shabbat, and saw what happens there. Many people are not so religious, maybe even Shabbat desecrators, but as soon as there is soccer on Shabbat with the permission of a ministerial committee, woe unto us," Rabbi Yosef said.
"What will happen to our Sephardim?" Rabbi Yosef asked. "Instead of sitting on Shabbat and learning Torah [they will be at games] - even if you do not study Torah, don't bring about this mass Shabbat desecration which will now be permitted. It is much more serious when this is done with official permission than when done without."

Rabbi Yosef continued, "We must pray that God grant our leaders the wisdom to repent. Gentlemen, we all repent, the ministers, the Knesset members and the prime minister, everyone has to repent, each for his respective offenses."
"Woe unto us for this thing they plan to do, it's worse than the train. How much noise they made about working building the train tracks on Shabbat - there it was unclear if the workers were Jews or non-Jews, but they made noise about it, right? Here, it's even worse. It's not just workers, but all the Sephardim who will fail in desecrating the Shabbat," the rabbi said.