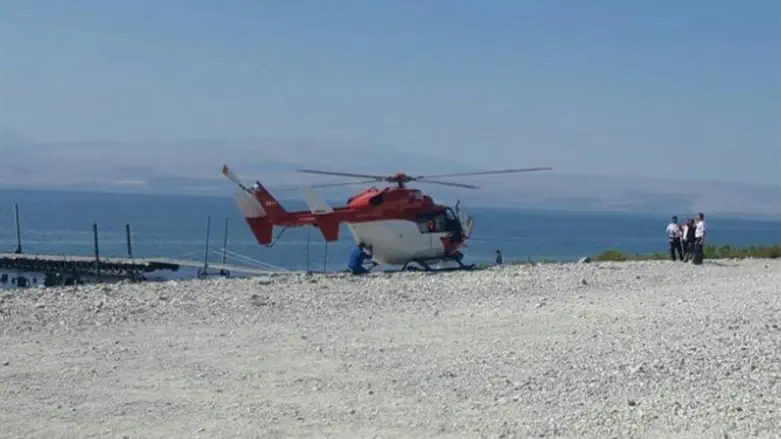 MDA helicopter on Ein Gev beach
Ofir Nachum, MDA
Tzfat's Ziv Hospital on Thursday morning announced the death of the 7-year-old girl who nearly drowned in Israel's Kinneret (Sea of Galilee) on Tuesday.
The near-drowning occurred at the Kinneret's Ein Gev beach. Magen David Adom paramedics resuscitated the girl, and transferred her to Ziv via helicopter when her pulse returned. She arrived at Ziv on a respirator.
MDA paramedic Gilad Touasi, who was present at the scene, said the girl had spent a few minutes underwater before being pulled out by her family. "She was unconscious, not breathing and without a pulse. We gave her initial medical treatment, and the MDA ambulance and helicopter notified by our hotline quickly arrived at the scene."
Doctors in Ziv attempted to stabilize the girl's condition, which was declared critical when she arrived. However, they were unsuccessful and later forced to declare her death.
A Ziv spokesperson said the girl's parents had decided to donate her organs.
ילדה טבעה בחוף עין גב - מצבה קשה